New York, NY – May 17, 2018 – CGS, a global provider of business applications, enterprise learning and outsourcing services, has been named to the TrainingIndustry.com 2018 Top 20 Content Development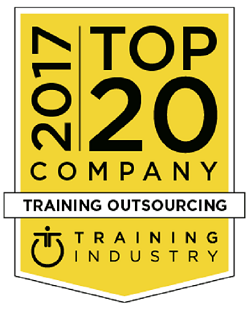 Companies List for second consecutive year. The list is part of TrainingIndustry.com's mission to continually monitor the training marketplace for the best providers of training services and technologies
This list recognizes the 2018 Top 20 Content Development Companies in the industry and is designed to help organizations in their search for the right training partner. The list recognizes learning content development companies for demonstrating excellence services in the following areas:
·         Industry visibility, innovation and impact                                                                                                                                                                           
·         Capability to develop and deliver multiple types of content
·         Company size and growth potential
·         Depth and breadth of subject matter expertise
·         Quality of clients
·         Geographic reach
"We are honored to again be recognized among TrainingIndustry.com's list of Top 20 Training Content Development Companies," said Doug Stephen, senior vice president, learning division, CGS. "With a focus on creating best-in-class training content through innovative digital and traditional approaches, CGS partners with global companies to deliver consistent, engaging and results-driven learning programs. This recognition highlights our commitment to offering best-in-class services to our valued clients."
CGS's Enterprise Learning Group serves as a trusted partner to many of the world's most dynamic companies, delivering innovative, custom learning solutions that are essential to scaling their people, processes and performance. CGS's custom professional development solutions range from interactive game-based eLearning to transformational technology rollouts. Each solution is designed to keep clients' employee-related business fundamentals strong in today's ever-changing corporate environment.
###
About CGS
For nearly 35 years, CGS has enabled global enterprises, regional companies and government agencies to drive breakthrough performance through business applications, enterprise learning and outsourcing services. CGS is wholly focused on creating comprehensive solutions that meet clients' complex, multi-dimensional needs and support clients' most fundamental business activities. Headquartered in New York City, CGS has offices across North America, South America, Europe, Middle East and Asia. For more information, please visit www.cgsinc.com and follow us on Twitter at @CGSinc and @LearningCGS and on Facebook.
Media Contact:
Susan Sweeney, CGS