Why CGS places extreme importance on its security ecosystem
The breach of personal information from Facebook by Cambridge Analytica brought attention worldwide to the issue of data protection and the dangers of misuse.  But it's the latest in a long line of data breaches where personal information has been compromised: the private data stolen from 143 million accounts at credit reporting agency Equifax in 2017; the 145 million eBay users compromised in 2014; the 3 billion accounts hacked at Yahoo in 2013, just to name a few.
Perhaps this is not a surprise – data has become a highly valued and sought-after resource. You've probably heard the comparison of data being for our times, what oil was for the 20th century. In their own right, both have enabled the world to make huge advances for humankind, creating along the way an enormous amount of wealth and prosperity. In current times, data is responsible for creating five out of the six largest companies in the world by market value in 2017. The next wave of growth is being powered by data.
Correctly gathered, refined, distributed and monetized data has made the world more connected and organized, improving the lives of billions of people. Online maps help people navigate unknown roads or get through a traffic jam faster; specialized, targeted digital medicine help people live longer and healthier lives; and social groups are formed based on interest or need, for members to support one another.
And for companies, data-driven campaigns help to target customers based on their needs, rather than trying to make a best guess shot in the dark. At the very least, data makes marketing campaigns more effective than ever; in more extreme situations having the proper data can mean the life or death of a company.
However, unlike oil – a limited resource -, data can be infinite, reusable and durable. More value can be extracted the more it is used. And unlike oil, data can be replicated, cheaply and easily transported, and moved very quickly.
Which is why we at CGS Inc put the utmost importance on our security environment, creating an ecosystem that is robust and certified. We work with data provided by our clients in order to create value for their customers, helping to expand business, heighten customer loyalty and solidify the company brand. But we also recognize that this data must be kept in the right hands – those of each individual client, as it is one of the most valuable assets they own.
"The value in customer service is in the data. The entire discovery for our clients – how to serve, sell and resolve well – is in the data. In order to garner market intelligence, the data is gathered, segmented and refined, and you can achieve great conversion rates because of that," according to Pablo Rossel, SVP CGS. "So we need to provide the tranquility to our clients that their data is safe and being put to good use, and we do that through our security ecosystem."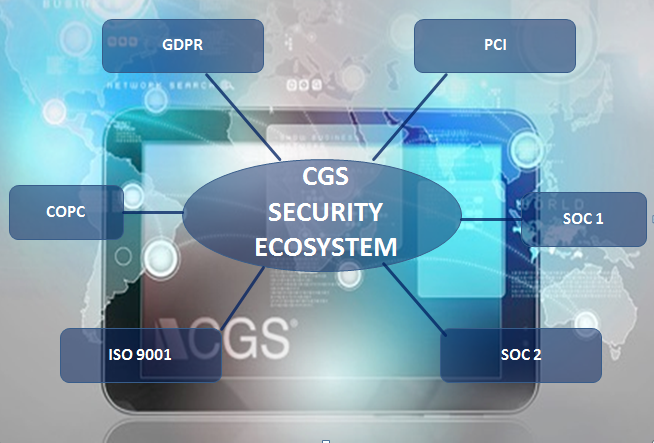 Since CGS handles data for entities ranging from hospitals and medical centers to telephony companies, data protection and privacy are fundamental, he adds. As such, the company is taking on the European Union's General Data Protection Regulation (GDPR) regarding Personally Identifiable Information (PII) on a global level.  "Our eyes are on global compliance, considering our presence in Europe and servicing businesses in Europe. This corporate recognition of data security puts us on the leading edge because we have no doubt that, sooner rather than later, the rules will tighten up elsewhere throughout the world," Rossel notes.
Many companies handle transactions online and through contact centers, such as retailers and banks, which is where the Payment Card Industry Data Security Standard (PCI DSS) - formed by Visa, MasterCard, Discover Financial Services, JCB International and American Express to secure credit and debit card transactions against data theft and fraud - becomes extremely relevant.  In 2017 alone, global retail e-commerce sales reached US$2.3 trillion, up 25% from the previous year, and these revenues are projected to grow to US$4.88 trillion in 2021, according to information from statistics portal Statista.
Further, CGS performs SOC 1 assessments for internal control over financial reporting and SOC 2 audits on controls related to the security, availability, processing integrity, confidentiality, and privacy of the data handled.
And in a more general light, CGS is COPC certified for customer experience, employing consistent processes and best practices for continuous improvement in leadership, people, processes and performance. CGS also boasts ISO 9001:2015 certification in its U.S. and Chile facilities for its quality management system.  The ISO 9001:2015 certifies the company's Contact Center Support; Technical Helpdesk, Customer Care Support, Telesales; Business Process Outsourcing; Software development and maintenance; Software training and testing; and Infrastructure services.
"When referring to our ecosystem of security, we're not just talking about IT security," says Rossel. "It's also about our whole process – that we're working well,  maintaining operational stability, that we maintain our information secure and orderly, that we're delivering clear, concise, measureable results. We keep an eye on our operations to ensure quality services, and that is why we refer to it as an ecosystem."
Running a tight ship leaves little to no room for security violations, he adds, pointing out that the security aims to ensure against data leaks and hacks, while also leaving clients with ease of mind.
Satisfaction – Quality – Productivity  - Efficiency