Webinar Replay Now Available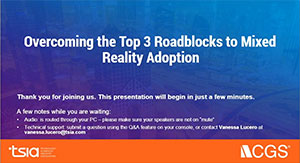 According to a recent CGS survey of operations leaders, 61 percent plan to invest in mixed reality (MR) by the end of 2021. Mixed reality is technology that expands our physical world, adding layers of digital information onto it for deeper learning and real-time application to improve performance. The benefits include streamlining knowledge transfer, providing continuous training and realizing cost savings through remote support and maintenance. However, three user adoption challenges are keeping some teams from realizing its full value.
To learn how to overcome these common obstacles, including demonstrations of this powerful technology, simply complete the form below.