Digital Transformation Comes to the Factory Floor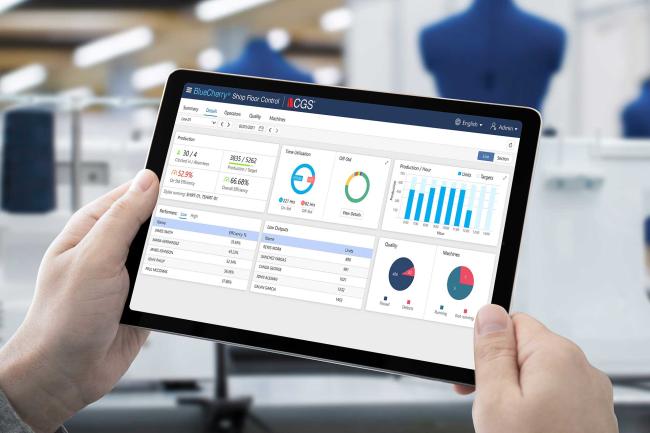 The Internet of Things (IoT). Industry 4.0. Supply chain digitalization. Smart factories. The terms sound futuristic and conceptual, but they have real-world applicability, right now, for the fashion and sewn products factory floor. Fact is, today's most productive factories rely on existing automation tools.
The last industrial revolution ushered in automated cutting and sewing. With that automation, equipment speed accelerated, but nonproductive time management and process visibility limitations remain challenges. The latest industrial wave, which the industry is now surfing, includes a greater degree of digitalization. Factories and machines have more connectivity to the internet and supply chain software, enabling seamless communication between trading partners. Shop floor control (SFC) technology plays the central role in connecting the digital with the physical.
Why is digital transformation so important for the factory floor? It's because better information enables associates, managers and executives at all levels to measure performance—of a specific machine, a production line, an entire plant or multiple factories—and make faster, better-informed decisions that improve productivity and competitiveness. Real-time information, leveraged within a SFC solution, is the critical piece of this plant floor digitalization.
Real-time Order and Process Visibility
A digitally transformed factory helps business leaders provide faster, more accurate status updates to customers. With online shopping's prevalence and popularity, consumers and business customers alike expect order visibility. Some call this the "Amazon effect" because of how Amazon has set new customer service benchmarks. While ordering 100,000 pairs of jeans as a professional apparel buyer is quite different from ordering a couple of pairs as a consumer, the desire for real-time order status is similar.
CGS BlueCherry Shop Floor Control Enterprise, the latest generation of SFC technology, offers this real-time visibility. It captures time and performance data on all production activities as they occur. Individuals, teams and managers boost productivity because they have a clearer view to off-standard events (non-productive time) and can quickly devise solutions. Executives charged with overseeing factories and supply chains can better track, analyze and resolve developing and persistent issues.
In a highly integrated supply chain, trusted trading partners and customers could, given the right security protocols, receive self-serve access to factory floor visibility. While this transparency level is uncommon today, it promises to be a significant benefit for customers, such as fashion brands eager to know order status for a hot new style. For example, if provided access, a retail brand sourcing leader could use the SFC solution to check order progress at a supplier factory.
The Online Clothing Study describes shop floor visibility at Hugo Boss, Turkey. "They are tracking data through tablet devices situated on the shop floor workstations," OCS Founder and Editor Prasanta Sarkar said. Big-screen displays located throughout the factory display key performance indicators (KPI), which "helps their employees know about the quality, repairs, inventories, shipments, delivery dates and time left."
A Clearer Path to Manufacturing Efficiency
Apparel and sewn products factory digital transformation enables greater efficiency. Here are a few ways SFC, as part of a digitalization strategy, benefits key stakeholders.
Production Associates and Sewing Machine Operators: With smart, connected manufacturing workstations, operators are armed with tools and information they need to be their most productive. They can self-serve to resolve many issues, view construction details and check their pace on digital touchscreens at their workstations. This leads to less downtime because they get answers and assistance faster. It also improves quality because they are less likely to make errors thanks to clear assembly instructions, in their own language, supplemented with 3D instructional images and videos.
Mechanics and Engineers: With Shop Floor Control, mechanics have a real-time view of machine use and downtime. They receive alerts when a machine requires attention, with recommendations for what jobs to prioritize if multiple machines are down. They also use SFC to track machine repairs and parts usage, which gives them a better understanding of equipment reliability and lifespan.
With greater digital connectivity, engineers focus on value-added activities, such as optimizing production plans and line configurations, rather than on collecting and organizing data. SFC helps them analyze production data more quickly to troubleshoot issues with specific operations and incentive pay rates. SFC puts a wealth of data about individual operations and operators at their fingertips. "IoT-based technology enables tracking the skill set of operators as well as the average quality score of the operation," the Online Clothing Study said.
Supervisors and Plant Managers: With real-time Shop Floor Control alerts, supervisors can better manage absenteeism, quality and off-standard time issues. They can visualize when and where production line imbalances occur and prevent bottlenecks before they escalate. With instant insight into operator strengths and weaknesses, they are armed with information to resolve imbalances. For example, new Shop Floor Control technology proposes solutions to imbalances, such as assigning high-efficiency employees to augment low-output jobs.
In a digitally connected factory, plant managers make more strategic production decisions because they are working from up-to-the-minute information, not old data. They see real-time production status and workforce utilization. This is important given the need to produce orders closer to market and juggle a larger number of smaller orders.
Executive Management: In-plant personnel are not the only ones who benefit from factory floor digital transformation. Corporate leaders, sourcing and supply chain managers, brand managers, buyers and other executives also have much to gain. Shop Floor Control enables manufacturing and sourcing managers to remotely monitor and roll up information from multiple locations to see the big picture. With COVID-19 still limiting in-person activities globally, this remote monitoring capability offers social distancing advantages, too.
With next-generation advanced analytical capabilities, the latest Shop Floor Control technology makes it faster and simpler to transform data into actionable information. Business managers and executives see KPIs for individuals, lines, teams, plants or the entire manufacturing enterprise. With a glance at a configurable, cloud-based dashboard display, a sourcing executive, factory owner or manufacturing leader sees order and work-in-process (WIP) status and can quickly share relevant information with internal or external stakeholders, including customers.
Factory digitalization, starting with Shop Floor Control, offers many benefits for apparel and consumer goods manufacturers, right now. Where is your business on the digital journey? Whether you are just starting to ride the digital wave or looking to take connectivity to the next level, we'd love to learn how CGS can help. Visit the website today to discover the new BlueCherry® Shop Floor Control Enterprise solution. Let's work together toward your digital future.