Change the Way You Upskill/Onboard/Build Capabilities With Augmented Reality
TeamworkAR™ is an innovative, next-level, enterprise-ready XR learning and development platform. TeamworkAR revolutionizes conventional employee training by providing real-time training, guidance and support on any device, anywhere. The platform solves return on investment challenges by aligning employee needs with immersive collaboration and built-in business metrics.
When you implement TeamworkAR, your organization's learning and training processes scale for efficiency and productivity, moving your employees from the classroom into the real-world workforce faster. Learn how an emergency assistance, disaster relief and disaster preparedness organization reinvented their mission-critical learning programs.
Improve the Employee Experience
Augmented reality training increases engagement and drives efficiency, safety and knowledge transfer. TeamworkAR allows the creation of rich content experiences regardless of the technical level of your team and can be deployed as XR-as-a-service including content creation, best practice learning methodology and device management.
Change how work gets done and make everyone a genius with accessible, immersive and empowering AR learning experiences. When employees feel engaged in their work, they feel a sense of connection to their company and its processes. See the difference TeamworkAR can make with improved retention and a more connected workforce.
Learn more in the TeamworkAR Product Sheet
Optimize Training Processes
Global workforces need to find ways to help their employees thrive wherever they're based. Apply augmented reality job training to:
Employee onboarding
Understanding workflows
Training technical workforces
Scenario-based training and roleplay
Product, sales and maintenance training
Remote assistance and collaboration
Remote guidance in product design
With immersive AR learning, you can accelerate design processes, reduce risks, improve remote guidance, boost sales enablement and connect your network of global employees.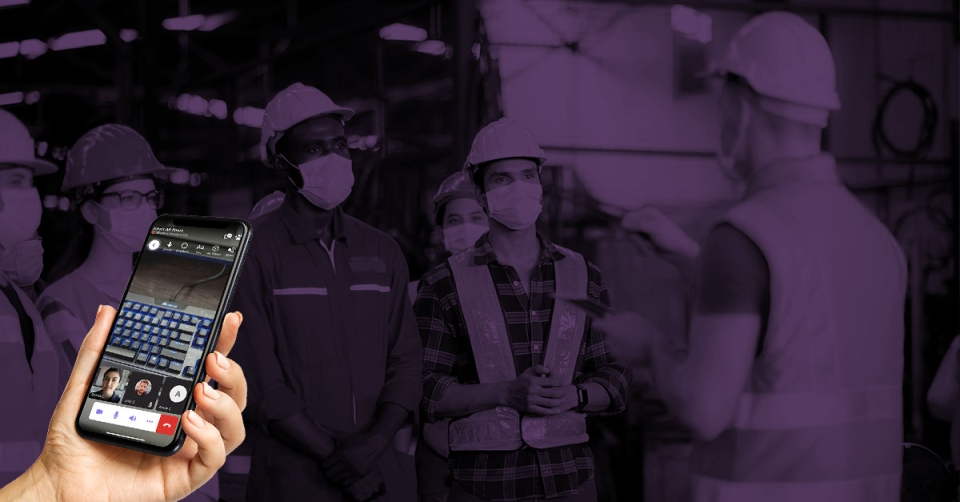 Connect With a TeamworkAR Expert
If you're ready to discover more about how the TeamworkAR platform and as-a-service solutions can benefit your organization, our experts can help. Connect with us today to request additional information or schedule a demo.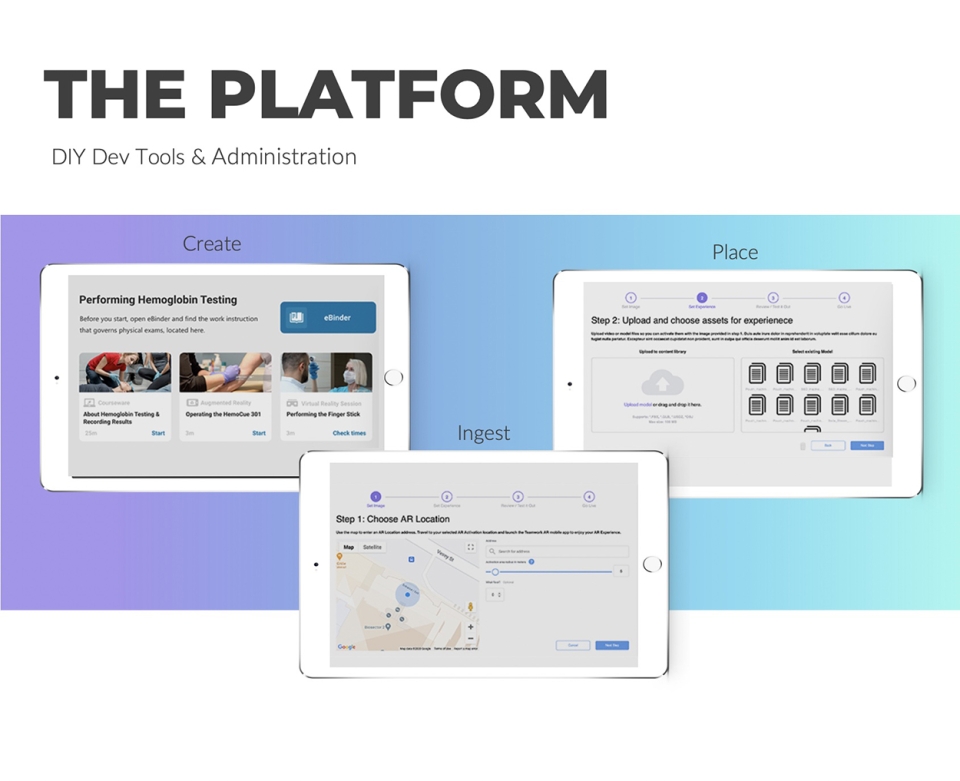 Features & Benefits
AR for Any Device, Anywhere.
Use on iOS, Android, web and wearable platforms (HMT-1), allowing for interoperability for support and collaboration.
Real-Time AR Collaboration Tools
See the power of videoconferencing, annotation, shared workspaces, object placement, remote guidance, AI-based voice search and more.
Feature-Rich Visualization Tools
Apply real-life visuals, 3D objects, image recognition, environmental mapping, adjustable bandwidth and beyond for an immersive experience.
Integrations
Apply integrations like IT service management providers, learning management systems (LMS), eLearning courseware and more.
Analytics
Apply integrations like IT service management providers, learning management systems (LMS), eLearning courseware and more.Save sessions, and timestamps for compliance and track the status of learning materials usage.
Expert AR Content Development
Leverage custom content development for an end-to-end solution; no agencies, no new development staff, just results.
24/7 Support
Reach out to our approachable, knowledgeable support team with fast turnaround in real time via chat, phone or email.
Global Performance
Apply live language translation and support to unite your global team. By removing language barriers, you can tap into a larger talent pool to collaborate on projects or resolve issues.
Security
Trust a communication engine built on ISO 27001, one of the most widely recognized and internationally accepted information security standards.
150% better
Performance is 150% better for employees than those using paper-based training materials.
60% increase
Experience 60% increase in learning effectiveness
50% faster
Results in 50% faster task performance

Christopher Lind
People are buying things because they're wowed by the sales experience. AR made that possible for us. AR used to be outside our scope. CGS made it simple so it fits into our mix of sales tools.