BlueCherry Suite Includes
Trusted by these amazing companies
Integrated Solutions for Omnichannel Success
The evolution of omnichannel commerce has challenged fashion apparel and footwear companies to transform their planning, supply chain and distribution systems to meet customers' expectations for seamless shopping across channels, including delivery and returns. To succeed, and remain competitive, companies need solutions and technology partners that improve, streamline and synchronize all their processes and communications from product development through the entire supply chain. 
To compete against more nimble fashion and footwear brands, retail companies must control product and operational costs, manage ongoing supply chain complexities, reduce time to market, improve visibility and meet growing social and regulatory compliance. CGS's BlueCherry® Enterprise Software, with its apparel ERP and PLM components, provides the platform necessary to compete and succeed.
Concept-to-Consumer Capabilities
With end-to-end capabilities, the BlueCherry Enterprise Suite enables fashion and footwear companies to manage critical business transactions and concept-to-consumer processes. The results are improved speed to market, greater process visibility and control, increased productivity and operational efficiency, reduced costs and enhanced competitiveness.
CGS's BlueCherry Enterprise Suite has the built-in capacity to address the fundamental needs of all core management, planning, design and product development, sourcing, manufacturing, logistics and sales functions. Our flexible, modular approach allows us to configure solutions to fit each client's unique platforms and systems. Some companies launch the entire suite as one integrated system that reaches across their entire organization, while others choose to implement individual tools from the platform in step-by-step fashion.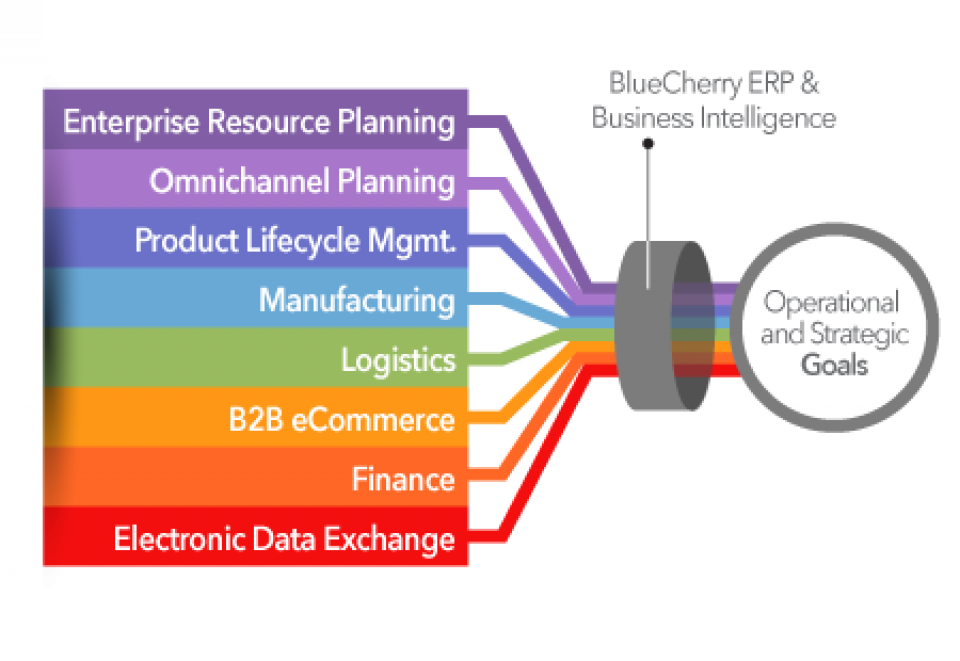 Proven Industry Expertise
With 30+ years of industry expertise, CGS's Applications team understands the mission-critical nature of the processes our BlueCherry Enterprise Suite supports. We have delivered unparalleled software capabilities to keep our clients' business fundamentals strong for years to come, and we plan to be there, by their side, through all the challenges and changes in strategies, technologies and market needs.
We've built and actively facilitate a global community of CGS experts and BlueCherry users that is unmatched in the industry. The community provides an open forum for clients and experts to share strategies and best practices, which is one of the fundamental elements of our long-term partnership approach. The other fundamental - globally proven implementations and world class technical support.
250,000+
250,000+ users worldwide
$40 Billion+
BlueCherry customers together deliver $40bn+ in annual retail sales
"The nice thing we found is that the BlueCherry product has allowed us to standardize on one platform and then configure the software to meet our unique business requirements" 
Keith Smith