F&A EXPERTS BRING FOCUS AND AGILITY
Consolidate fragmented finance and accounting (F&A) processes with our business process outsourcing (BPO) service. Our contact center teams reduce the administrative burden on your staff and increase the speed and accuracy of your F&A processes.
Our customer-centric experts fit seamlessly into your business. We reduce the drain on your productivity and lower the pressure to hire and train additional staff. We find the highly qualified people you need for short- or long-term goals. This allows you to stay focused on your core business.
You can proactively control costs and improve performance by leveraging our specialists. Our team delivers services in more than 25 languages, supporting 2.25 billion people around the globe. We have work-from-home models and contact centers in the U.S., Canada, Romania, India, Israel, Chile and South Africa. We provide around-the-clock care through multiple channels, including voice, text, chat, email and social media.
COMPREHENSIVE F&A OUTSOURCING
CGS has more than 35 years' experience delivering customized back-office financial and accounting outsourcing services. Our clients include some of the world's largest technology, telecom, retail, hospitality and healthcare companies. We help them to focus on core business objectives, lower internal costs, improve overall efficiency and provide the flexibility to scale up quickly.
Our F&A BPO services include:
F&A Processing
Invoice and Billing
Fraud Detection and Prevention
Order Fulfillment
Account Management Services
Warranty and Entitlement
Our facilities are ISO 9001: 2015 certified and SOC 2 Type 2 compliant.  We continuously improve processes to reduce the risk of errors and ensure your financial data is always secure.
Our finance and accounting outsourcing solutions help you uncover insights that drive efficiencies. We use advanced analytics to make better business decisions that empower growth.
CUTTING-EDGE F&A TECH
CGS continually invests in cutting-edge technologies like chatbots and robotic process automation (RPA), which help drive process optimization and improve service to your customers. Our RPA tools can flawlessly execute repetitive processes that span several systems or involve multiple data entry tasks. This reduces human error, boosts productivity, ensures compliance and increases quality control. Using these tools will help reduce issues that can expose your company to reputational risk.
Customer experience is our top priority. Implementing supportive platforms like RPA and chatbots streamline interactions for our live agents. This allows them to handle more complex finance and accounting responsibilities that require critical thinking and analysis.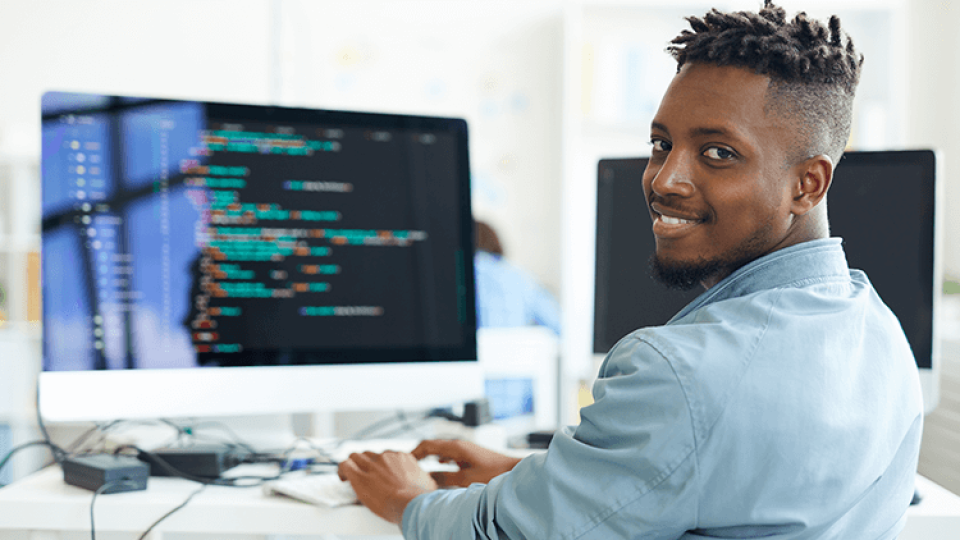 ISO 9001:2015
ISO 9001:2015 certified facilities
80%
80% of employees have a college degree and/or an advanced certificate in their field of support
+90%
+90% of customers have returned to CGS for additional call center services for nine years or more

"They've been very flexible with us... so it's really worked well. It's driven mainly by the flexibility, the relationships you can build with the people, the ease of working with them. They're willing to work with you as a partner. And a lot of companies will say that—everyone says they can do that, but CGS really, definitely prove that every day with us."
 Doug Klees, VP Global Customer Care & Payments, AOL

"The three main challenges Xylem faced were: a decentralized organization, uncommon processes globally, and Multilanguage challenges. CGS solved the problems by introducing a dedicated, 24x7x365, global service desk with Multilanguage capability. It absolutely filled the gap in where we needed to go to with standard processes using best practices globally. "
Richard Lampe, Director of Global Infrastructure Operations, Xylem

"We needed a partner who made customer service their core competency. We needed multilingual support for all our solutions and services and we needed to do that in a unified way. That drove customer retention, loyalty and upsell. We needed to improve, somewhat dramatically, on our SLAs and to be able to predict cost. Those are the things that CGS helped us manage in conjunction with the ability to scale to address our business needs."
Dan Wilkinson, Chief Commercial Officer, 1WorldSync

Why CGS?
Global Centers
With Work From Home Models and centers located in U.S., Canada, Romania, Chile, Israel, India and South Africa
28+ Languages Spoken
Includes: English, Spanish, French, Arabic, Dutch, Danish, Hebrew, Portuguese, German, Greek, Italian, Russian and more
Focus on Core
Outsource the rest: Invoice to cash, transaction/exception approvals, claims management, collections, payment receipts 
Certifications
Soc 2 Type 2, PCI compliant, ISO 9001:2015, ServiceNow® Certified Sys Admin
2.25 Billion
Our agents speak the languages of more than 2.25 billion people around the world