BlueCherry® Shop Floor Control System
Apparel, fashion and consumer goods manufacturers constantly need to improve productivity, efficiency and product quality, while controlling costs. They also need to meet process transparency, sustainability and compliance requirements.
BlueCherry® Shop Floor Control is the most widely used fashion-focused shop floor control software in the world. And now it's easier to implement and use. BlueCherry manufacturing software and hardware empowers garment factories and other manufacturers to improve factory floor efficiency. BlueCherry Shop Floor Control has the latest industry 4.0 production management capabilities. With the latest cloud, wireless and analytics technologies, it makes this powerful multilingual solution easy to deploy, maintain and use. With BlueCherry Shop Floor Control, production, management and supply chain teams will enjoy the best user experience and access to information. 
GAIN VISIBILITY WITH SHOP FLOOR CONTROL SOFTWARE
BlueCherry Shop Floor Control software captures time and performance data on all production activities in real-time. Key performance indicators (KPIs) for individuals, lines and teams are presented through easy-to-understand, configurable dashboard displays. These shop floor control dashboards offer detailed business intelligence for greater manufacturing transparency. Advanced analytics and reporting are available through the BlueCherry Business Intelligence (BI) tools integrated into BlueCherry Shop Floor Control Enterprise.  
This unparalleled visibility equips production workers with on-demand feedback on their individual or team performance. Supervisors and factory managers receive actionable intelligence for:
Order tracking
Production line balancing
Performance monitoring
Machine maintenance
With web-based access, executives and business partners have the transparency needed to monitor every aspect of factory operations. CGS's shop floor control system provides real-time visibility into the manufacturing process, allowing for faster and better-informed business decisions. This level of visibility and control benefits all stakeholders across the apparel and consumer goods supply chain. 
Download the Data Sheet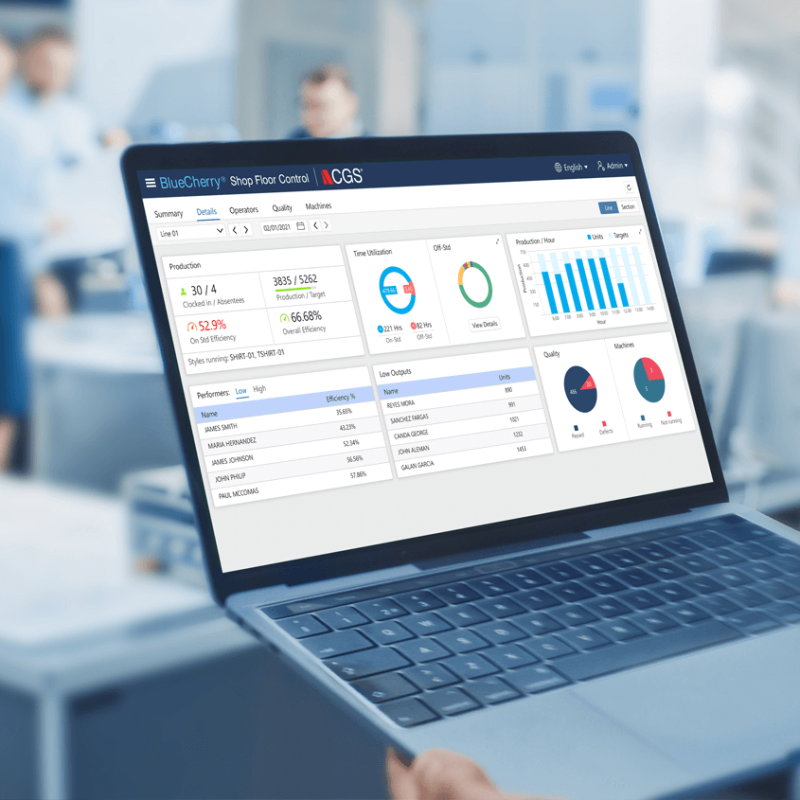 IMPROVE PRODUCTIVITY & EFFICIENCY WITH SHOP FLOOR CONTROL SOFTWARE
BlueCherry Shop Floor Control measurably boosts productivity and efficiency across the entire operation. Workers and supervisors use BlueCherry Shop Floor Control smart devices to manage off-standard events such as machine downtime. Focusing attention on minimizing these non-value-added activities optimizes individual and overall productivity.
Time clocks are efficiently replaced with a simple scanning of an ID tag at the BlueCherry smart device. Production workers also use these tablets to view their real-time performance against established production targets. Pacing tools in the shop floor control system help workers quickly reach these targets. Displaying construction details and instructional videos on smart devices also help improve quality. Big-screen displays can be located throughout the production floor to present productivity, quality and other vital information. Connected and informed workers better understand their value in the workplace. This results in increased motivation and teamwork as well as reduced absenteeism.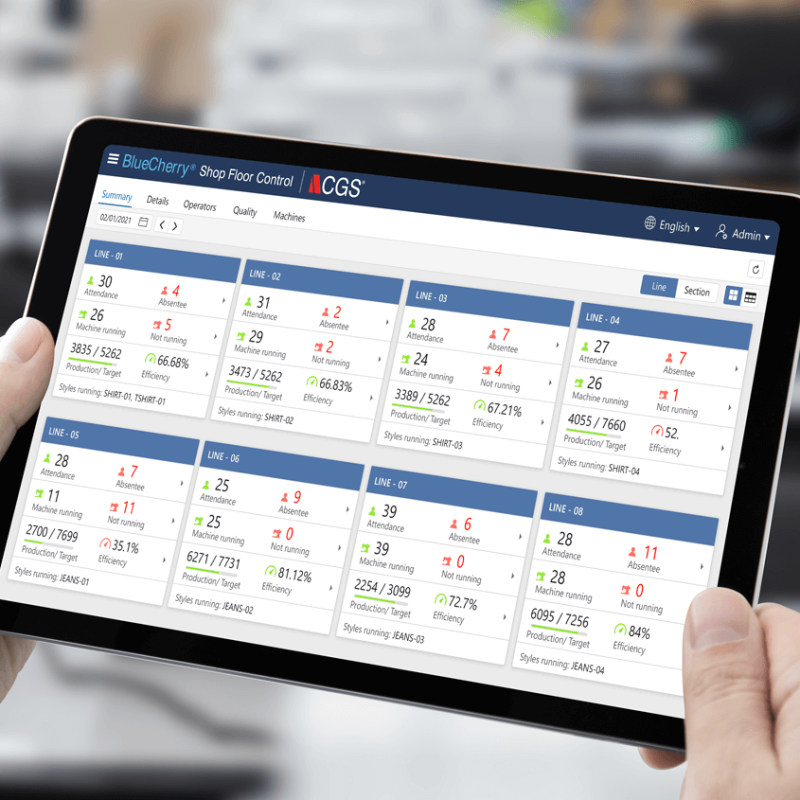 REDUCE MANUFACTURING COSTS WITH SHOP FLOOR CONTROL SOFTWARE
Supervisors and managers rely on BlueCherry Shop Floor Control to identify and resolve production bottlenecks. The system presents options for fixing production delays. Proactive line balancing tools help managers anticipate potential imbalances.  Managers can then choose the best actions to prevent backups before disrupting production flow. It also identifies workers who have the skills needed to boost the production of a specific task.
Significantly reducing worker and administrative time and expenses, BlueCherry Shop Floor Control eliminates requirements for time clocks, paper tickets, gum sheets and the manual recording and processing of production and gross payroll information. BlueCherry SFC includes a comprehensive source-to-gross payroll solution that automatically collects data as workers scan barcodes or RFID tags for each of their activities. This greatly reduces time and errors in calculating incentive payroll.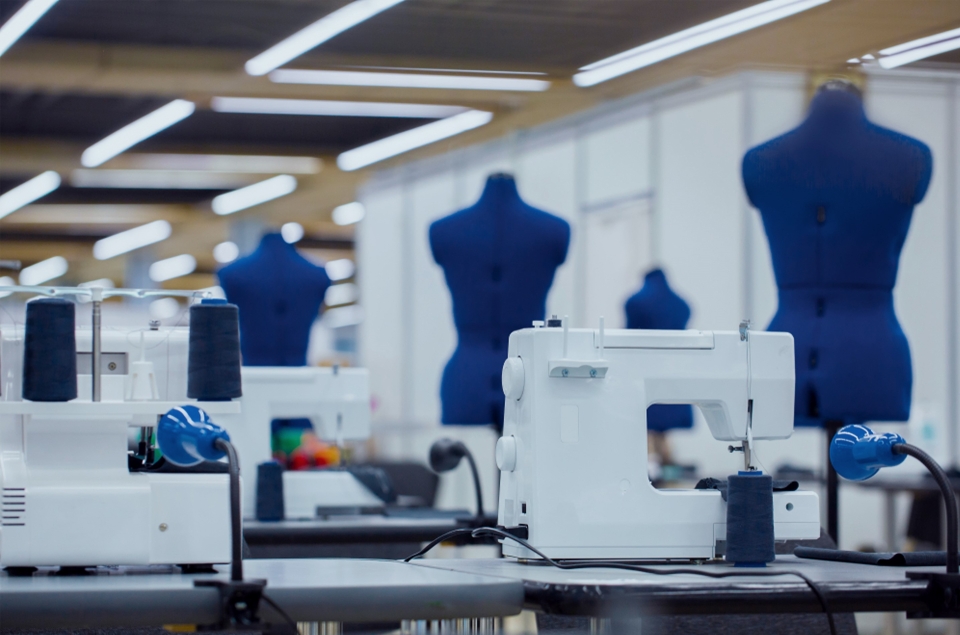 AGILE, FLEXIBLE & RESPONSIVE MANUFACTURING
With real-time information, BlueCherry Shop Floor Control is the ultimate shop floor management software. Customizable, web-based dashboards provide the visibility and transparency to understand production performance and status at a glance. Integrated BlueCherry BI tools enable more advanced analytics that reveal important business trends and opportunities.  
BlueCherry Shop Floor Control smart devices connect your workforce to the information they need to be more productive and prosperous. These rugged tablets securely connect through Wi-Fi networking to speed deployment and provide mobility. 
Equipped with unparalleled visibility and control, companies can quickly and accurately anticipate, identify, respond, and innovate around any manufacturing condition or trend. BlueCherry Shop Floor Control empowers all stakeholders to make faster, better-informed decisions that can transform your manufacturing operations.
BlueCherry Shop Floor Control System Features
Cloud-based Management App
Access real-time information on production status, workforce utilization, quality performance, payroll statistics and much more from a securely connected web-enabled device.
Dashboards & Advanced Analytics
Configurable dashboards provide at-a-glance visibility and drill-down into production KPIs; advanced BI tools support predictive analytics, trend tracking and visibility into strategies and opportunities.
Industrial-grade Smart Devices
Production workers scan work tags, monitor real-time performance, access pacing tools, view job instructions, request help and more using rugged tablets explicitly made for factory environments.
Incentive Payroll Calculation
Automatically collect all payroll-related activities and extensive pay codes; automate all steps in calculating source-to-gross payroll; and interface with third-party gross-to-net payroll systems and services.
Machine Maintenance & Repair
Track and manage machine, equipment and parts inventories and maintenance records; use machine history to anticipate needs, plan purchases and identify the best equipment for every need.
Quality Assurance Management
Conduct roving inline and warehouse statistical quality control inspections with tablets plus web interface for PCs; support unlimited inspection types, multiple languages, images and e-tape integration.
200,000+
200,000+ BlueCherry Shop Floor Control terminals installed
100%
Manufacturers using BlueCherry Shop Floor Control consistently reported 100% ROI within six to twelve months
10-30%
10-30% reduction in excess labor costs

Jay Harris
We want to congratulate the CGS team on a brilliant job. BlueCherry® Shop Floor Control (SFC) is a world-class, ground-breaking manufacturing and reporting solution. SFC will help us achieve our productivity goals, create a collaborative factory environment and allow our operators, supervisors and managers to succeed in ways that we could only dream of a few months ago. I want to point out that the project was delivered on-time and on-budget. We are blown away by the success and cannot thank you enough.