Enhancing Communication and Collaboration Through PLM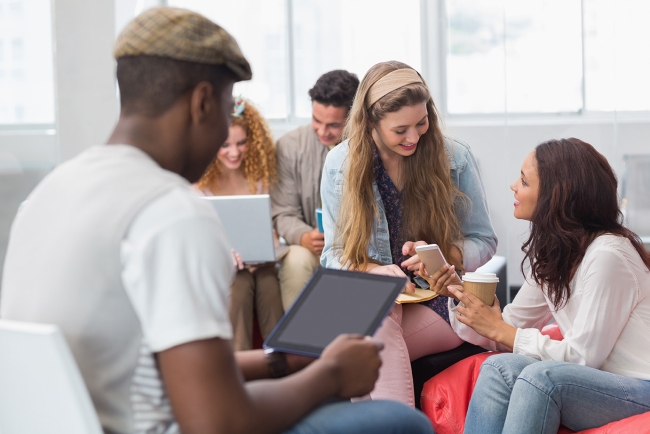 Now, more than ever, to survive and thrive, companies must find ways to collaborate with partners and suppliers. The apparel industry has become more competitive and the market more volatile, and the pandemic exposed the need for strong business relationships in the face of such tumult. Fortunately, the technology to help foster trusting relationships already exists and is only getting better.
Product Lifecycle Management (PLM) is one of these essential tools. While PLM has been around for more than a decade, its latest information-sharing capabilities were indispensable during the pandemic, when companies were forced to make big shifts and go remote.
PLM creates communication pathways between company employees, partners, and software platforms. It links to a company's existing solutions, such as ERP or CRM, creating one extensive platform where shop floor managers, factory owners, and key suppliers can access invaluable insights.
"PLM belongs right at the heart of Fashion's 'infinite technology loop,'" Mark Harrop, CEO & Founder of WhichPLM, writes in the 2022 PLM Report by WhichPLM and Interline.
PLM was designed to eliminate communication barriers within a company and has advanced since its inception.
According to Daniella Ambrogi, Global Marketing Director at CGS, "The initial idea behind PLM was to break silos, funnel data and communications between departments that were totally disconnected. The evolution of PDM is electronic tech packs where collaboration could be achieved between different departments."
Now, PLM technology's remote features can help streamline communication not only within one business but also across companies, easing collaboration with partners and making it more efficient.
Ben Hanson, Editor-in-Chief at Interline, describes the metamorphosis of PLM. At first, the software was not accessible remotely, provided less customization, and was difficult to upgrade. Now, companies can access their information easily from anywhere in the world.
"Twelve years on, the picture could scarcely look more different," Hanson writes in the 2022 PLM Report by WhichPLM and Interline. "PLM today is deployed remotely in the majority of cases, with minimal implementation and services . . .  near-total, low-code configuration and modularity, on an affordable monthly subscription basis, with secure access from any device, anywhere."
Sharing this real-time data with vendors is simpler than ever with PLM technology. Suppliers can get secure access to information on designs and related data, making costs more transparent.
"With the use of PLM, factory owners also have a tool to control their costs," says Ambrogi. "It provides the opportunity to educate and provide feedback to the supplier through data."
PLM empowers companies and their partners by collecting immense amounts of data and using it to develop insights into the cost and sustainability of designs and processes.
The implications of these expectations are profound. Pressure from both consumers and regulators is compelling companies to make their systems more efficient and transparent. PLM helps them do so by collecting the data that stakeholders are looking for and making it accessible from anywhere, modernizing communication in the apparel industry to meet contemporary needs.
 Are you getting the most of your PLM solution? Visit our BlueCherry Next PLM page and see how a high configurable, no-code product lifecycle management solution provides a comprehensive set of tools to enhance communications and collaboration.