Kathleen S.C. Heberger, Responsible Research & Writing LLC, is a writer and researcher specializing in business technology and manufacturing trends. She covers fashion industry IT, advanced materials and supply chain issues.
ESG and Supplier Network Modeling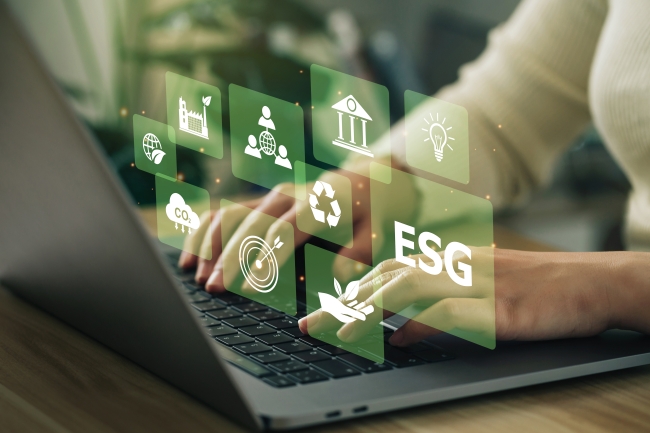 Part 1: ESG and Supplier Network Modeling
ESG. Environmental. Social. Governance. It's a heightened priority for merchants, brands, and consumers — and manufacturers, wholesalers, and suppliers — for reasons ranging from retail compliance to new regulations to concerns about global warming and fair trade.
Since their inception, many outstanding fashion and retail businesses have held themselves and their suppliers to high standards for working conditions and environmental stewardship. But today's ESG requirements reflect greater scrutiny on extended global supply chains — into upstream processes all the way to the fiber and farm — and a higher bar to prove compliance with new laws and regulations.
The CGS BlueCherry® ESG Blog Series offers a 3-part ESG compliance roadmap:
Part 1: ESG Overview and Steps to Supplier Network Modeling
Part 2: Chain-of-Custody Identification, Social Compliance Verification and Supply Chain Mapping
Part 3: Environmental Sustainability: Your ESG Roadmap's Next Major Milestone
What Is ESG?
ESG Definition: "Environmental, social and governance (ESG) is a framework used to assess an organization's business practices and performance on various sustainability and ethical issues. It also provides a way to measure business risks and opportunities in those areas," said a TechTarget article, which offers this ESG breakdown:
Source: TechTarget
ESG Compliance: A Pressing Priority
Major retailers such as Walmart have mandated that suppliers provide visibility into their extended supply chains, from raw material to finished product. The Uyghur Forced Labor Prevention Act (UFLPA) does the same. Enforced since June 2022 by U.S. Customs and Border Protection, this U.S. law requires importers to comply with rigorous track-and-trace rules to thwart force labor risks in Xinjiang, China's cotton capital. Accounts of Xinjiang's Uyghur people being forced into camps for "re-education" have appalled the world, including the U.S., which has its own scarred history of slave labor in its Southern cotton fields. UFLPA has shaken up apparel and home fashion supply chains by demanding:
Verified supplier documentation
Chain-of-custody handoff proof for finished products
Many apparel businesses are struggling under the burden. Some have hired new employees for the sole purpose of ESG compliance. Others have added ESG duties to already full plates of existing teams, collecting and reporting sourcing information through tedious spreadsheet updates. They squeeze what they can from older business software not built for the rigors of modern retail much less ESG. Oftentimes, suppliers — and suppliers' suppliers —bear additional overhead costs and overtime, all trying to ensure:
Safe factories with fair wages and practices
Customer and government ESG requirements are met
Goods make it through U.S. Customs
Right products reach consumers at the right time
The Solution: There is an alternative to so much time and effort. It is not band-aid solutions that require regrouping and reinvesting resources every time ESG requirements change. The smarter path with stronger ROI is a comprehensive strategy and technology platform including ERP, PLM and shop-floor control (SFC). Then companies can manage not only ESG compliance but also strengthen business fundamentals, including:
Cost reduction
Competitive price
On-time delivery
Supply chain visibility
Fulfilment speed, flexibility and accuracy
Customer service
Quality control
CGS BlueCherry® can be your partner in:
Forging your ESG strategy
Determining how to integrate and align ESG with other business priorities
Identifying the right processes and configuring the right technology "control center" to support ESG and other core business strategies.
First Things First: Supplier Network Modeling
Supplier network modeling is an important first step toward ESG compliance. How do you model your supply chain? Here are the basic steps:
Create supplier records for each tier by collecting primary data. This is information you request and receive from suppliers or gather through internal teams on factory visits or meetings.
Collect and review third-party assessments and audits of social, safety and human rights conditions across your supply chain.
Maintain all supplier records and activity in a single platform, such as the same ERP and PLM solution where you already centralize bills of materials, supplier information and material libraries.
Connect the dots between buyers and sellers in your supply chain tiers. For example, identify supplier relationships such as which fabric mills supply materials to the same sewing factories.
Part 2 of our CGS BlueCherry® ESG Blog Series will delve deeper into supply chain mapping, including how to automate the process and leverage greater visibility as a strategic business advantage.
Contact CGS today to learn how our team can partner with yours on ESG compliance and other business strategies and processes. Learn more about the CGS BlueCherry® Suite — your business control center for ESG compliance and much more.

Kathleen S.C. Heberger, Responsible Research & Writing LLC, is a writer and researcher specializing in business technology and manufacturing trends. She covers fashion industry IT, advanced materials and supply chain issues.