Finding Your Perfect Fit with Shop Floor Control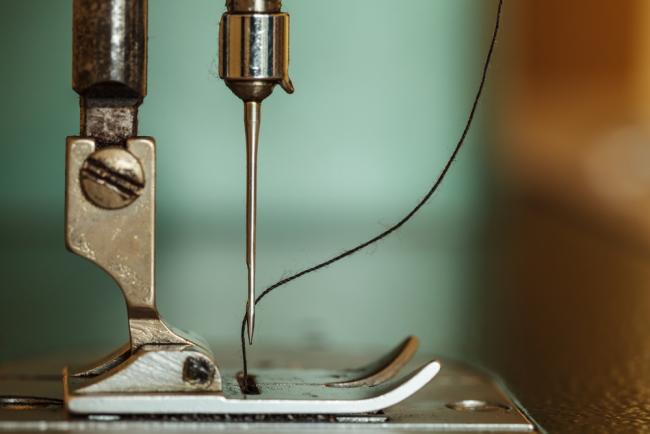 The fashion and sewn products industries are experiencing rapid change. Consumers are demanding greater innovation, quality and value in their products. They want a seamless shopping experience regardless of when and how they purchase; and care that the products they purchase are produced in a safe and socially responsible manner.
While these and other mandates challenge retailers and brands, they also place extreme pressure on the supply chains that must perform in an environment where product SKUs are increasing and individual order size is shrinking.
With lead times constantly shortening, and consumers expecting the same level of inventory and service irrespective of the channel, companies must put in place an IT infrastructure that enables cross channel visibility and the free flow of information across functional boundaries.
- Ernst & Young in collaboration with The Consumer Goods Forum 2015
INDUSTRY CHANGES IMPACT MANUFACTURING
Manufacturers are increasingly being called upon to:
Reduce cycle times and costs
Increase productivity
Provide operational transparency
Comply with fast-growing government regulations
Meet increasing social responsibility standards
For manufacturers that have already worked for decades to reduce time and costs from their processes, the tactics of working harder or adding more people to meet production schedules is simply no longer a sustainable option in an era of globally rising wages. The operational velocity required in today's fashion and sewn products industry leaves little room for the errors or delays that result from reliance on manual methods. The use of manual processes, email communications and spreadsheet reporting does little to address mandates for improved transparency, supply chain collaboration and compliance.  
The fact is, deployment of information technology (IT) has quickly become essential for fast-paced manufacturers.
Manufacturing worldwide is on the cusp of a revolution. New information technologies are suddenly offering not only to make the management of manufacturing more effective, as we saw with early versions of plant and enterprise software, but the work itself smarter. Technologies based on the Internet of Things have the potential to radically improve visibility in manufacturing to the point where each unit of production can be "seen" at each step in the production process. Batch-level visibility is being replaced by unit-level visibility. This is the dawn of smart manufacturing.
- Kevin O'Marah, chief content officer, and Pierfrancesco Manenti, VP of research, SCM World
THE IMPORTANCE OF IT IN THE FACTORY
Not only does IT enable companies to do more with less, it empowers them to operate efficiently and consistently at the speeds required in this environment. For example, providing workers with real-time feedback on their own productivity motivates them to keep pace and exceed standards. Armed with up to the minute production information, supervisors and managers make more timely and better-informed decisions that enhance the performance and profitability of the entire operation.
The question then becomes, what type of IT is best suited to help soft goods manufacturers address these challenges? Many are turning to the proven benefits of Shop Floor Control (SFC) solutions.
By examining the history, capabilities and benefits of SFC, we can learn why so many consider this technology to be the single most important option for gaining the visibility and control they need to sustain their success and profitability.
IDC sees companies attempting to build resilience into their approach to operational management by investing in more consistent performance measurements, greater visibility into current status, and analytics to provide retrospective, perspective, and predictive capabilities to operational management. Done correctly, this investment should deliver consistency without sacrificing local flexibility and produce positive revenue, cost, quality, and asset utilization results.
- IDC Manufacturing Insights Report
SFC TRANSFORMS DATA INTO INTELLIGENCE
The concept of SFC is not new to the fashion and sewn products industries. While it has expanded in scope and advanced through new technologies, at its core SFC integrates data collection hardware with production management software to provide workers and managers with the information they need to increase productivity, better manage the plant floor and automate payroll calculations.  
For more than 30 years, manufacturers relied on legacy "batch" data collection systems.  Batch systems utilize a mostly manual ticket scanning process to collect and report information on a periodic basis (typically once per shift).  As industry demands for better direct labor cost controls increased, progressive manufacturers sought more proactive methods that drove the development and use of Real-time SFC.  Real-time systems use networked data collection devices at each production station to provide workers and managers with production performance, order tracking and all other production activities immediately as they occur.
Innovations in wireless networking, mobile devices and cloud technologies have recently been adapted to improve the data collection aspect of SFC. These can remove the requirements for traditional wired networking infrastructure and provide greater mobility and flexibility of Real-time SFC. Along with the use of mobile devices (primarily tablets) has come new apps (such as those based on the Android® platform) to improve the user experience for both production workers and managers.  
While data collection remains important, SFC buyers will want to focus attention on how effectively the system analyzes and reports the information. Even as the real-time model is preferred in most fast-paced and complex production environments, recent advancements have importantly transformed SFC from a reactive to proactive management solution by delivering a new level of "Actionable Intelligence"; the kind of support workers and managers need to drive greater productivity, improve plant floor management and achieve the overall promise of SFC. 
The mobile application for our shop floor system allows supervisors to access information while on the production floor. It can perform many functions such as check attendance, approve off-standard transfers and overtime and access section performance – all while supervisors are away from their desks. Since it is also web-based, managers can access the system remotely and perform supervisory functions, when necessary.
- David Chapman, Toronto Plant Manager, Canada Goose Inc.
SFC SOLVES REAL PRODUCTION PROBLEMS
While not all technologies have staying power, the importance and value of Real-time SFC has actually grown as demands for speed, efficiency and transparency increase. Over its 3-decades of use in the fashion and sewn products industry, many of the largest and most forward-thinking manufacturers have proven the measurable benefits of this technology. It is clear that SFC empowers these companies to better manage a wide-range of plant floor processes, including: 
| | |
| --- | --- |
| | Production Line Balancing |
| Hourly/Incentive Gross Payroll | |
| Worker Pacing and Motivation | |
| Off-Standard/Excess Costs | Supply Chain Transparency |
| Productivity/Efficiency Tracking | |
Naturally, the benefits of SFC are most fully realized when real-time visibility is available to workers and managers. Perhaps even more important is the need for robust reporting and analytics tools that can empower factory management to make more timely and better informed decisions. Early warnings to absenteeism, low performance, quality and other production exceptions enables supervisors and managers to avoid major delays and prevent potential bottlenecks. Armed with the information needed to make needed adjustments, supervisors and managers can maintain smooth production flow and ensure on-time customer deliveries.
For many companies, the ability to identify and better control excess (or off-standard) costs represents one of the largest opportunities for improvement. Without real-time information, management may not fully or quickly recognize the negative impact of the time lost to machine downtime, waiting on work and many other non-productive events. Similarly, SFC systems can reduce or eliminate many time-robbing administrative chores like clocking in/out at centralized time clocks and manually collecting and processing production (bundle) tickets and calculating incentive payroll. SFC also helps eliminate costly time and errors around production counts and payroll calculations.
The advantages of real-time visibility and control at the plant level can also extend to customers (retailers, brands, OEMs) and supply chain partners by providing much-needed transparency into order and delivery status, wage and pay practices and numerous other supplier KPI's.
Having this information in real-time has been a tremendous advantage for us to be able to know where everything is. With Real-time SFC there is no such thing as confusion; there are no mistakes.
- Jeffrey Rosenstock, Vice President and Co-owner, General Sportswear
TIPS FOR CHOOSING YOUR SFC SOLUTION
Now that you have identified your most important improvement opportunities, you will want to carefully evaluate both the product capabilities and vendor relationship aspects of the selection. Following is a list of some of the most important success factors reported by our many SFC clients.
Industry Experience Matters: Take time to understand the depth and breadth of industry experience of each vendor and how well they understand your specific needs.
Relevant Customer References: Ask for and take time to interview several active customer references. Where possible, make visits to most relevant customer sites.
Data vs. Actionable Intelligence: How robust and relevant is the built-in reporting? Does the system provide actionable analytics to help solve production issues and fully identify costs? 
Flexible, Reliable, Scalable Solutions: Does the system have a track record of reliability and scalability? Can it mix batch and real-time components? Does it support mobile technologies?
Service and Support:  What service levels are offered for the product? What staffing is in place for phone and onsite support? Does the vendor use third-party contractors?
Integration Expertise: Is the system widely integrated with ERP, SCM, third-party payroll service providers, engineering systems, etc. What integration techniques are typically used?
Implementation Methodology: Does the vendor have a well thought-out and documented process for your successful deployment? How many implementations have been performed?
System Security: What methods does the vendor use to secure your data? Can information be selectively and securely shared through the cloud with business partners? Is data encrypted?
Product Roadmap: Ask the vendor to share the key elements of its SFC product roadmap and timeline. Determine what level of development is being driven by customer needs.  
Community Resources: Does the vendor have an organized user community program? Does it provide opportunities for you to network with the community to share best practices?
By taking the time to identify these and other key selection factors, you will be equipped to set proper expectations for your teams and develop a collaborative partnership with your vendor that will ensure your immediate and long-term success with your new Shop Floor Control solution.