Kathleen S.C. Heberger, Responsible Research & Writing LLC, is a writer and researcher specializing in business technology and manufacturing trends. She covers fashion industry IT, advanced materials and supply chain issues.
Holiday Shopping Pop Quiz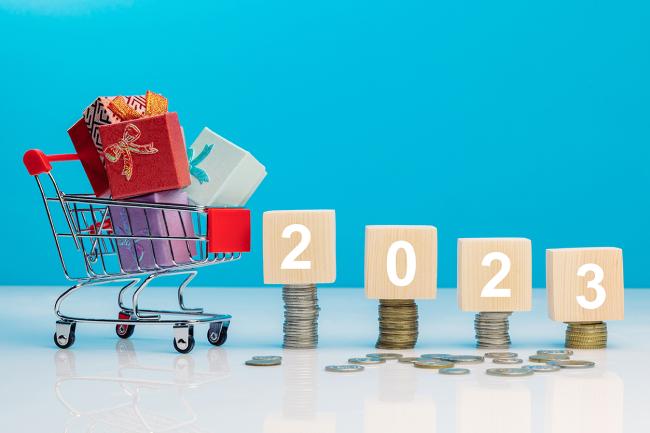 "Happy holidays!" This greeting will be everywhere from now through the new year. Take our quick quiz to check your readiness to make the right side of Santa's list!
Holiday spending is expected to reach record levels during November and December, growing 3% to 4% over 2022 to $957.3 billion to $966.6 billion. (Source: National Retail Federation)
#1: What do consumers want most for holiday 2023?
a.     Successful Hunting Trips
Whether online or in-store, Americans love the holiday shopping frenzy. The hunt for deals. Finding the perfect gifts. Dressing up for parties and special occasions. The average American will attend five gatherings during holiday 2023, according to a OnePoll survey of 2,000 Americans. There are traditional festivities — office parties, special holiday dinners and New Year's Eve night on the town. Coordinated Black Friday shopping outfits! And don't forget newer occasions like Friendsgiving celebrations. Retailers, brands and their suppliers have put their best effort into building special collections and a plentiful inventory of classics. Now the key is to provide visibility to available products. In-store, that means keeping the back room well stocked for fast refreshes of racks and shelves. Behind the online shopping scenes, real-time inventory accuracy, high customer service levels and on-time delivery will win these festive, feverish shopping days.
b.     Flexible Fulfillment
Three in four Americans expect to be busier this holiday season, according to OnePoll's survey. These busy consumers enjoy the hunt, but they don't want it to be too difficult. Time is precious. Shoppers want flexibility to browse and buy on their terms, when time allows. Picking up a few presents and holiday home fashions while picking up a gallon of milk. Ordering a special occasion dress on their phone while grabbing lunch. Meeting shoppers where they are means seamless order management and fulfillment. Then holiday shopping is less stressful and more of a breeze. Buy in store? Order online, pick up in parking lot? Collect the package from the mailbox, front porch or Amazon locker? Yes, yes, yes!
c.     Free Shipping
Free shipping is the gold standard valued by online shoppers. Retailers and brands offering free delivery have a leg up during the holidays and always. To do it profitably takes efficiency across end-to-end supply chain processes. Digitalization plays an important role. It weaves together what's happening in the physical world with digital information. This makes it possible for:
Easier data analysis, better decision making
Greater operator productivity and incentives
Clearer visibility to products and processes
Quicker response to trends and customer needs
"Our solutions are united by a common thread — the commitment to driving innovation, efficiency and success for our clients in a digital-first world," said Phil Friedman, President and CEO, CGS, in The Silicon Review's recent cover story on the 50 Most Admired Companies of 2023.
d.     All of the Above!
$923: How much Americans expect to personally spend during holiday 2023, just $9 less than they estimated spending for holiday 2022 (Source: Gallup Poll)
#2: What will make for a "happy holidays" for your business bottom line?
a.     Strong Sales
Business analytics are a competitive advantage, especially during peak shopping periods. Savvy retailers, brands and manufacturers are leveraging business intelligence tools and AI-powered analytics to see what's selling and what's trending far faster than was feasible in holidays of old. Waiting for reports, walking the factory or warehouse to see what's available … now the purvey of the ghost of Christmases past. Business acumen of your talented team combined with real-time data analysis delivers the gifts of:
Presenting a compelling assortment
Offering smart deals
Responding to break-out hot sellers
Recognizing the right time for discounts
b.     Stellar Customer Service
Omnichannel shopping opens the door for fashion businesses of all sizes to compete for consumers' holiday dollars. No longer must a brand be in every mall. There are winning strategies to capture new business through so many different channels and marketplaces, in person and online. But certain core competencies apply to all. Digitalization, being a connected enterprise with strong visibility, ensures:
Engaging with shoppers for a positive experience
Staying in-stock
Anticipating and responding to demand
Providing accurate inventory information
Complying with customer ESG, order management and fulfillment requirements
c.     Talent: A Well-Trained Team
Behind every successful holiday season are hard-working people — running the registers, keeping shelves stocked, analyzing sales trends, allocating merchandise where it's needed, and even designing and making goods mid-season. Augmented reality training tools and intuitive, user-friendly enterprise technology help businesses get the right people in position and ready to serve the customer, From product development to the manufacturing plant floor to the warehouse, store or call center, automation and technology solutions:
Encourage creativity
Improve customer experience and satisfaction
Allow time for the most value-added work
Automate tasks and reduce data entry
Improve and reward productivity
Streamline workflow and inefficient processes
d.     All of the Above!
50%: Amount of consumer holiday e-commerce spending expected to be transacted from mobile devices. (Source: Comscore.)
#3: What will Taylor Swift wear to the Christmas Day NFL game?
a.     Red
b.     White, Red and Gold
c.     Licensed NFL Apparel
d.     Any of the Above — or a surprising new look!
During holiday 2023, be ready to respond to sudden social media buzz, whether it's TSwift, a popular YouTuber or Amazon influencer. "Two-thirds of all shoppers will rely on social media to influence their gift buying this holiday season," Comscore predicts.
Taylor Swift's Eras tour, which runs through November 2024, is expected to generate $5 billion in U.S. consumer spending. The average concertgoer spends about $1,300 on tickets, outfits and more. (Source: Inc.)
Executing core business processes. Fulfilling customer wishes. Increasing sales and profits. CGS applies technology to solve practical problems, helping clients achieve their goals during the holidays and beyond. "Our focus will always be on helping our clients thrive in a digitally transformed world," said Friedman.
Answer Key: 1. d. 2. d. 3. d.
Bonus Question: Is your company ready to make all your customers' holiday wishes come true?
Answer: Let our BlueCherry® team be your business elves behind the scenes. Let's tie those end-to-end business processes up with a bow for a great holiday 2023 and happy new year! Contact us today to learn more.
Kathleen S.C. Heberger, Responsible Research & Writing LLC, is a writer and researcher specializing in business technology and manufacturing trends. She covers fashion industry IT, advanced materials and supply chain issues.