3 Practices for L&D Digital Transformation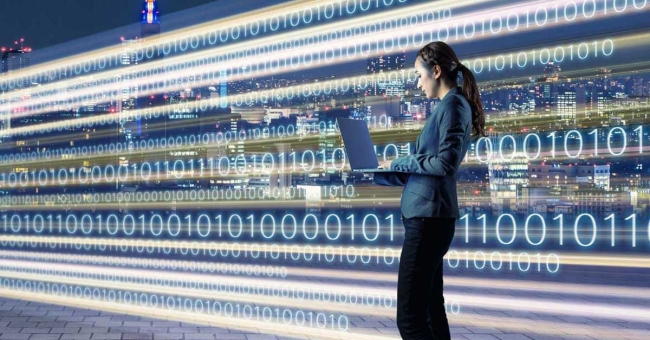 In the aftermath of a global disruption, organizations are realizing the increased importance of employee experience, connectivity, upskilling and capability building. Learning and development (L&D) has become central in helping to reshape capabilities for a new way of working.
We recently partnered with Human Capital Institute to bring together three experts to share practical insights on learning transformation. Zeynap Ozkaynak, executive director at American Red Cross, Rebecca Tooley, VP of Corporate Learning & Talent Strategy at Knight-Swift Transportation, and Regina Nowlan, senior enterprise learning strategist at CGS, offered best practices, real-life examples and a pragmatic approach to transforming your learning program in three key areas.
 
Working-Learning Environment
Before transformation, it can be helpful to take a look at a series of stats that sum up what the enterprise learning looks like today:
McKinsey reports that 58 percent of the workforce will need new skills to do their jobs, and 87 percent of executives and managers say their company already faces skills gaps or expect to within five years.
Business leaders are increasingly convinced that this learning will need to happen on-the job; 94 percent report they expect staff to pick up new skills in their workflow, which is a sharp increase from 65 percent in 2018.
In the employee space, some 4 million people have quit their jobs in 2021. Many of these workers noted they are looking for improved relationships between employers and employees. They are feeling burned out after the stresses of the pandemic, yet they are still optimistic overall and are eager to try something new.
On the business side, analysts predict that seven out of 10 jobs are being replaced by technology and machines.
Talk about a transformation. That means reskilling the workforce for the future will likely need to adapt and change, as well.
Outside of digital and technical skills, companies are seeing a need for, and prioritizing, human-centered skill sets. The future workforce needs to be diverse, equitable and inclusive. Workers need to be creative, make good decisions and collaborate and problem solve effectively.
At the start of the discussion, the speakers took an ad hoc poll of attendees on their most important current priorities. Below were the top results: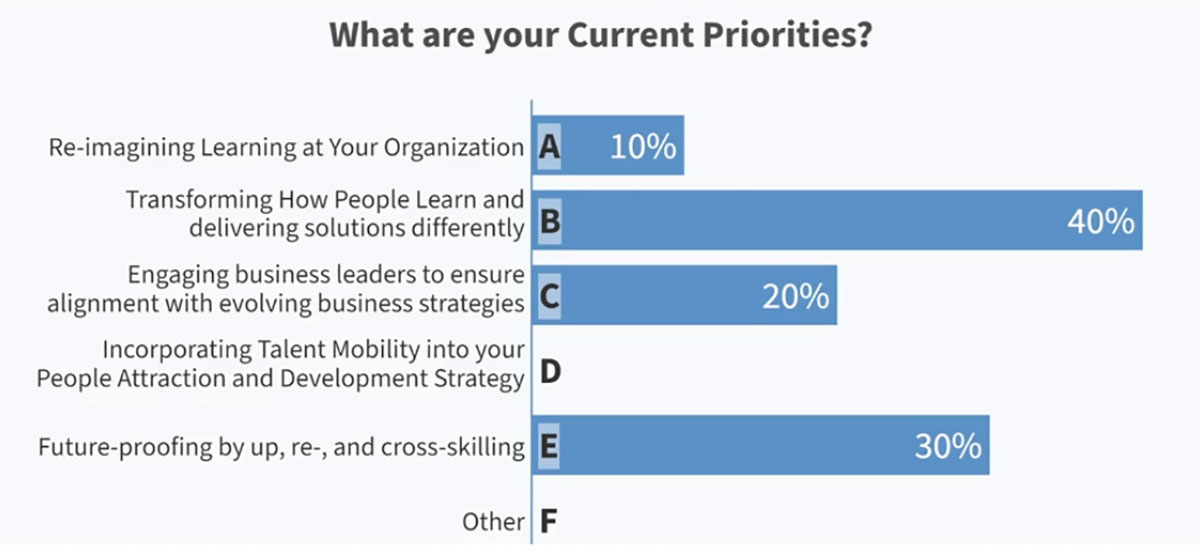 Learning Transformation
"Learners know where to go and how to get information," said Nowlan. "They've known it for a long time." She stated that the idea behind learning transformation is to take that lens and bring it to workplace L&D. Move from a structured, linear approach to a more intuitive, adaptive learning ecosystem. "Embrace the chaos," she said.
"This is a moment not to say whether we will transform, but to determine how we're going to transform," said Nowlan. Companies are looking for ways to increase efficiency, create a digital culture, design a better customer experience, increase collaboration, use data more effectively, innovate and align business development and strategy to learning.
Any transformation can seem daunting, and it's often difficult to know where to begin. L&D cannot just shut down for a period and then have a grand reopening. Companies must transform in motion, keep service levels high, find a place to start and make the right investments.
Hopefully, this discussion can help. The group outlined three practices with stories and lessons learned on how to transform learning at your organization.
 
1. Create Internal Career Mobility
Enterprise L&D programs sit at the intersection of business performance and people performance. They are well-situated—and hopefully, equipped—to move from standardized curricula to a more personalized and role-based upskill, reskill, cross-skill learning ecosystem.
The primary skills themselves are not new:
Role-based skills: We still need employees to perform well in their roles, to grow more portable skills that move along with business needs.
Human-centered skills: We must also prioritize human skills. This may include continuing education requirements; curated and crowdsourced content; and peer-to-peer learning.
Critical business needs: What is top of mind for the business? Some companies create an enterprise learning agenda each year. Focus on skills needed now and in years to come. Work with business leaders on priorities and governance to ensure we are aligned.
These are not revolutionary skills. What is different is the go-to-market strategy. Companies must put the learner at the center of this solutions focus. Your content sourcing and content management strategy will change.
Real-world Case:
Tooley's transportation and logistics company offered an example. In 2016, they created a brand-new LMS that really leaned in on metrics and data. They changed the focus from a "corporate university" system to a more open and welcoming portal learning environment.
Swift's truck drivers were already some of the best users and consumers of the learning content. They kept current. However, they wanted to increase office workers' consumption of content. To address this, they created a different point of entry for LMS via the existing intranet portal. They pursued a new way to get people excited and move away from compliance requirements to four categories: leadership, professional development, links to courses and a search feature. Doing much of the groundwork and legwork, they used a few IT resources, internal design and video production and a vendor partnership to maintain the new LMS.
RESULTS:
In the first 10 months after launch, Swift saw 100,000 hits to the site. With only 5,000 office employees, people were obviously going to the site repeatedly to find new courses. And they were spending some time there—42 minutes on average. When the pandemic hit, they saw a 74 percent increase in use. They took the opportunity to offer new courses, including mental health awareness, managing remote teams and other tips and tricks to engage learners through a new working environment.
 
2. Transform Your L&D Infrastructure
While it did not rate as a key priority for the ad-hoc survey, many companies also need to challenge and transform their L&D infrastructure for relevance, optimization and design.
Digital transformation means moving from a traditional L&D function to a learner-focused, go-to-market strategy that shapes how L&D is structured.
Real-world Case
Nowlan's example involved a very large hospitality company that moved from a heavily paper learning environment to a digital one. They needed consistent, global learning solutions on a reliable platform for the company. They also wanted to address skill gaps in leadership development and hospitality for distributed restaurant teams.
To do so, they established a Global Design and Development Center to focus on dynamic needs, build vision, maintain consistent service levels and lead change management. They scheduled a rolling deployment plan that enabled agility, testing and learning opportunities and best practices across markets.
RESULTS:
2 million employees in 53 markets now engage with digital learning in 25 languages
Learning platforms were reduced from 7 to 2, and main curricula reduced from 51 to 8
Employee engagement and collaboration increased by 18%
 
3. Embrace Digital Disruption
Perhaps one of the most radical changes in L&D is to embrace digital disruption to create a learning ecosystem. New technologies and ways of sourcing and using content are changing how people read, watch, process and learn.
Nowlan encouraged learning professionals to imagine the possibilities and challenge biases and old ways of thinking. Go beyond thinking about even a blended learning model, but using multiple technology approaches, such as augmented reality (AR), eLearning, video, social, etc.
Companies can embrace digital disruption to move from content in a single asset form to one that meets the learner where they are, content and interfaces that are adaptive and flexible.
Newer tech like AR also can build muscle memory and offer tactile, hands-on training for learners in delicate or physical roles.
Real-world Case:
Red Cross conducted one of the largest transformational efforts in the nonprofit sector. Their Biomedical Services, or blood collection, business needed to evolve its training system.
Some 2,000 employees underwent this very technical training each year, and the organization wanted to scale it up while transforming it from an instructor-led training classroom one to a AR-VR environment.
As of April 2021, they introduced a mind-blowing virtual environment training that allows learners to practice collecting blood in a safe, hands-on way. They use a headset and AR application to feel along arms to find a vein, insert a digital needle and experience drawing blood in a fully tactile experience.
Along with an AR redesign of the training, they invested in focus group sessions, learning pilots, SME insights and peer/social learning to bring their L&D in line with best practices. Balanced with on-the-job training, this practice in a virtual realm empowers independent performers to then attend a blood drive and do the real thing.
RESULTS:
Shortened time to fully independent training to 6–7 weeks from 8–12 weeks
Reduced cost per learner by 45 percent
 
Digital learning is not the future; it's here, now. And it's a lot more accessible than you may think. Whether you are evolving your traditional learning program, upskilling or reskilling the workforce or starting a brand-new program, you can watch the full webinar to gain more insights and advice on how to digitally transform your learning for the next normal.