Contact Centers During and After COVID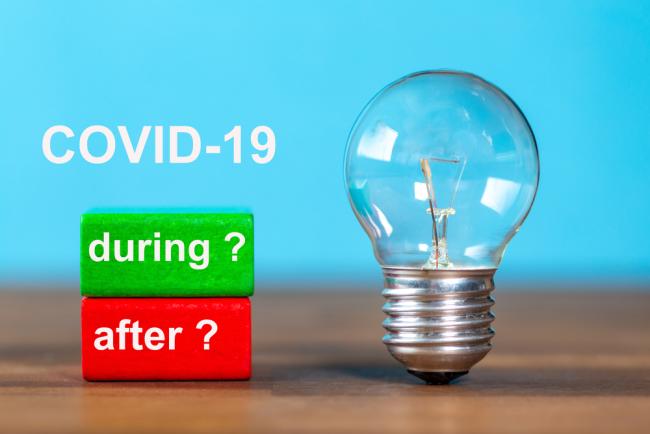 Due to COVID-19, chaos erupted in customer service as companies attempted to balance worker safety with business continuity. There are approximately 3 million customer service reps in the U.S. and millions more around the globe. Most of these reps saw widespread disruption. Many are shifting to new operating models and adopting new technologies to support customers through these difficult times.
CGS wanted to learn more about how the business of contact center, customer support, and technical support planning has been affected. CGS also wanted to know how enterprise customer care plans have changed and how businesses are navigating call center solutions during uncertainty. CGS conducted a quick poll with customer experience (CX) business leaders in September to learn more.
The resilience of early technology adopters
The findings from the CGS customer service quick poll make it clear that remaining adaptable and open to new ideas are key to resilience in the face of pandemics or any disasters. Those organizations that embraced an open, proactive attitude found their confidence and their optimism less shaken. Those who had already implemented a Work From Home (WFH) model in their contact centers prior to the pandemic were far more likely to be optimistic about a faster return to business as usual and far more confident in their ability to maintain service levels. Those proactively planning to invest in new technology are similarly more positive about their situation going forward.
By embracing agility and openness to new ideas and translating that into proactive measures, the industry can be better prepared for whatever comes next.
COVID's impact on contact center support services has been huge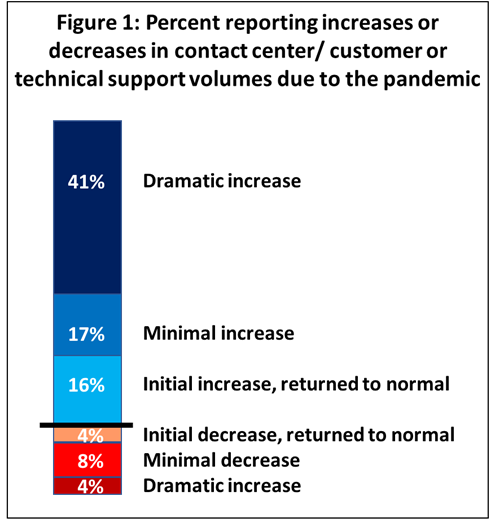 Service requests are at an all time high. Three in four CX Leaders in the CGS poll reported increased call volumes during this period. Only 16% reporting decreased volumes. The sectors reporting the most dramatic decreases were automotive; retail and consumer durables; and utilities and energy.
Companies struggled with these volume spikes. Seven in ten experienced either ongoing or temporary increases in call wait times. Three in four reported longer than normal response times. Roughly six in ten described other issues such as higher call abandonment rates, lower first call resolutions, or lower customer service ratings.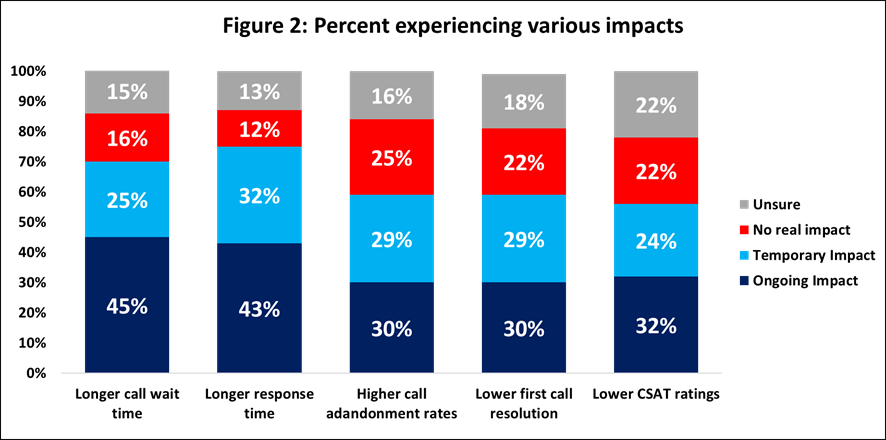 Many CX leaders are optimistic
Respondents were asked two questions related to their degree of optimism:
One that was essentially about their inwardly-directed optimism (i.e., their confidence in their ability to maintain service levels or prevent any negative service levels from additional waves of Covid-19)
One that addressed their optimism about the external world (i.e., their expectations about when their company could return to "business as usual")
While the majority of survey participants expressed a fair degree of inward and external optimism, a sizable minority were less positive. Their confidence about maintaining service levels, 37% rated themselves as only "somewhat confident" or "not so confident." Regarding the timing of a return to normal business operations, one in five felt that day was more than a year away, with just under half of these saying they were in fact preparing for a permanent "new normal."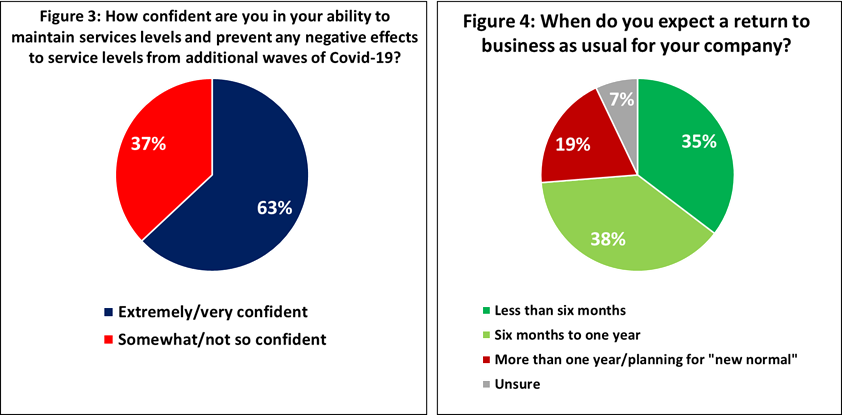 Perhaps these two attitudes were related. Those who were more optimistic about the world quickly returning to normal tended to be more confident about their own ability to maintain service levels. Among those who anticipated returning to normal in fewer than six months, 41% were extremely confident that they could maintain service levels. Only 14% of those expecting a longer adjustment period rated themselves as extremely confident.

Future plans of CX leaders
If companies follow through with stated intentions, WFH models will be more widely employed going forward. Recent restrictions to reduce the spread of COVID-19 have forced businesses to adopt a WFH model. Many industries have found that the benefits are greater and the costs less extensive than anticipated. 
One in five companies had already employed a WFH model prior to the pandemic. That figure rises to 56% when those who plan to keep the Work From Home model are added to those who plan to employ a hybrid model. Another one in five never shifted to WFH and have no plans to consider after the pandemic-related shutdown is over.
Among future plans, 41% of CX leaders intend to improve or revisit business continuity plans. Investment in technology is also significant, with 32% saying they will invest in call center technologies for efficiencies (such as chatbots, RPA, and AI) and 26% planning on investment in tech for better at-home customer support options (such as augmented reality).
The important actions are investing in technology that may help alleviate the burden of any additional potential pandemic waves. Half of all participants intend to pursue such investments, with 8% of the total planning on investing in both efficiency-enhancing and at-home support technologies.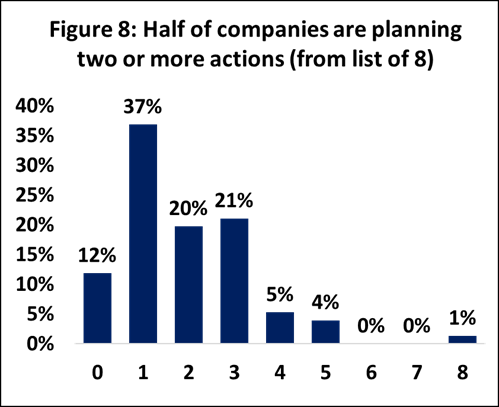 A proactive mindset as the key
In the big picture sketched out by the poll results some patterns start to emerge. Many participants clearly value adaptability, even when change isn't forcing them to do so. One in four switched to a WFH model well before the pandemic. Half of all participants are embracing a proactive approach to potential future pandemic impacts by investing in technology. Those who are proactive in implementing new technology tend to be optimistic about the future.
Among those who established WFH models early during the pandemic, 68% believed that business will return to pre-COVID conditions within six months. Fewer CS leaders who didn't have a WFH policy prior to the pandemic were as optimistic. Less than 30% of them are optimistic of a return to normal.

Similarly, early adopters of a WFH model were far more confident about their ability to maintain service levels. About 84% said they were extremely or very confident they would maintain service levels. The figure was 62% or less among those who had not moved to a model early on.

Whether the technology is selected for its greater efficiencies or its better ability to provide at-home support, the large majority of businesses polled expect a return to business as usual within a year. Only 15-17% of CX leaders who are investing in new tech believe it will take longer. Among non-tech investors 21% are pessimistic about the future and another 9% are unsure.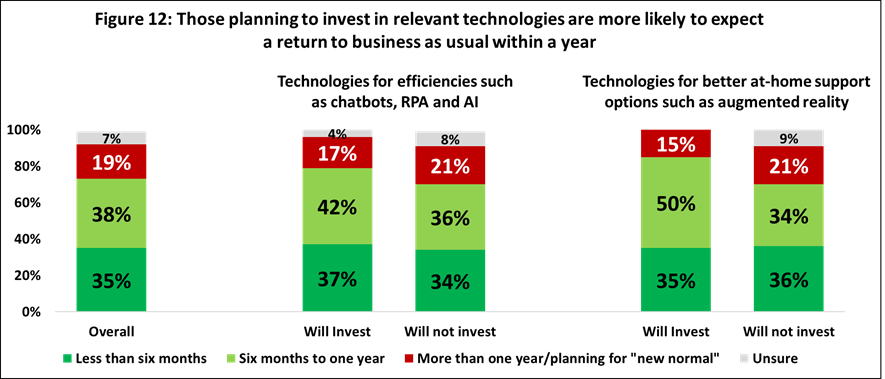 Planning to investment in at-home support technologies plays a significant role in driving a CX leader's confidence in the ability to maintain service levels. Close to 70% expressed confidence in maintaining service levels compared to 61% of non-investors. The same pattern is not evident among those investing in efficiency-enhancing technology. In fact, they are less likely to express such confidence than those not investing in this area (61% versus 70%).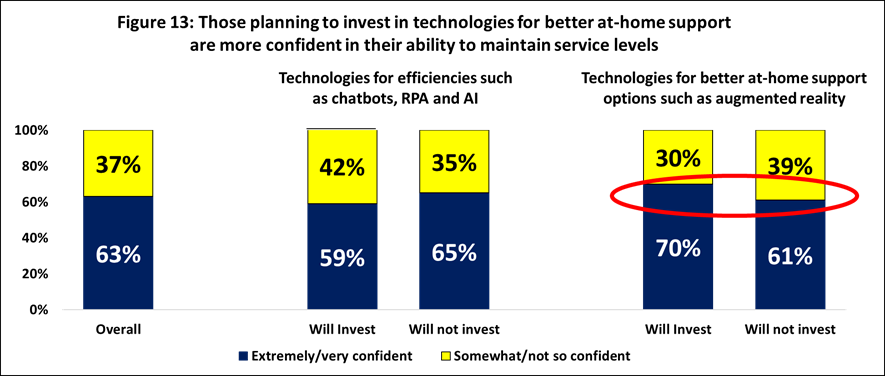 No-one knows what's next. But that's the whole point – resilient companies have always had to prepare for uncertainty. In the current situation, whether what lies beyond the horizon is a "return to normal" or a "new normal," the maintaining service levels may be challenging for businesses. When there are spikes in customer service needs a call center must be prepared to ramp up operations. Yet when there are inevitable troughs in demand the operation must be able to deal with it efficiently. Laying off workers and rehiring them later is not a practice anyone wants to employ.
A blog produced by the Harvard Business School frames the desired responses to any crisis as "protect and pivot": "act now to protect and run the business today, and plan now to retool the business for the future." By investing in technologies that result in both greater efficiencies and better at-home support, call centers will be doing just that.
---
Resources
https://www.viatechnik.com/wp-content/uploads/2020/06/AECO-and-Post-COVID-by-VIATechnik.pdf
https://hbswk.hbs.edu/item/the-covid-two-step-for-leaders-protect-and-pivot