How Fashion and Textile Companies Are Investing in Technology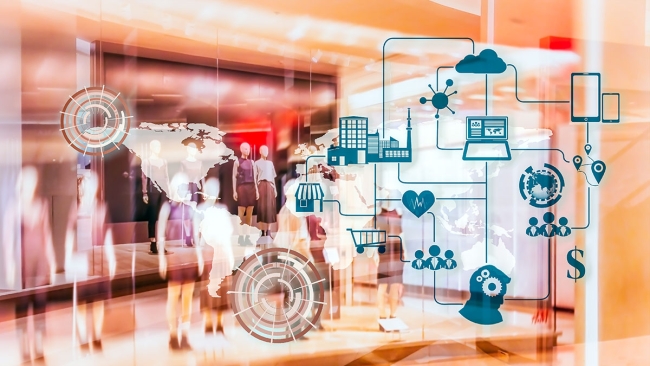 As COVID-19 slowly reshapes into a next normal, consumers have adapted to a new way of life. A lot of shopping is still done online, and curbside service remains a robust business option. While some shoppers have and will continue to return to in-store and other channels, eCommerce is expected to continue to be used more and more widely.
Additionally, the tangle of staffing, collaboration and supply chain issues presented retailers, apparel producers and brands with numerous challenges. And sustainability and customer experiences further complicate retail and fashion. Despite all these challenges, many companies find that the right technologies can bridge gaps and even prevent future operational disruptions.
Our partner, Americas Apparel Producers Network (AAPN), organized a survey of apparel and textile companies to gain insights into the latest technology trends and opportunities for the industry. One outcome was a panel discussion on investments in technology moderated by our Global Marketing Director Daniella Ambrogi. She spoke with two CEOs from the textile industry—David Romano, CEO, Diltex, S.A. de C.V. and Mickey Sachdeva, CEO of Cotton Heritage—to talk about how they approach and implement technology.
To learn more about the results of the survey, you can review the Future Forum Series: Technical Systems at AAPN.
The conversation started with the basics.
HOW IS TECHNOLOGY DECIDED/IMPLEMENTED?
We asked how technology was decided upon and implemented. Were the decisions made from the top down, or were individual teams allowed to push decision up the chain of command? And did this decision affect the success of the implementation?
For Romano, things have changed a lot in their technology approach. When Diltex started in the mid-1980s, decisions were made from top down. Basically, the IT team was the epicenter of projects. IT would propose the investment and were responsible for the implementation and its success.
In today's era of digital transformation, the business is the driver of a project. Application and capability requests originate with the business. IT still plays an important role of support and configuration to implement applications.
Romano asserts that the shift from top-down to bottom-up has been critical for the success of a project. The businesspeople are the primary users of a new application, so the responsibility for implementation and use is on them, not IT. IT has a seat at the table, but it is not making the top-level decisions.
Cotton Heritage operates similarly. Over the years, the decision-making chain has reversed. "Basically, we manage technology implementation from the bottom up," said Sachdeva. New technology is all based on clearly defining the company's needs and matching the technology to them.
Based on the needs, Cotton Heritage surveys what is available and what best suits those needs. No single software will fit perfectly. So, the company looks at different options, evaluates the best fit and then customizes. Each business need or application is examined individually.
INVESTMENT AMID THE PANDEMIC
As with many industries, fashion and apparel brands saw the need for and investment in technology accelerate rapidly over the past year-plus. Digital transformations originally planned for five to 10 years were sometimes sped up to five to 10 weeks.
For Cotton Heritage, the pandemic taught them new ways to do business. And it created a powerful need for automation software. As employees logged in from home, they had to connect their people properly, maximize collaboration and productivity without a side-by-side workforce.
Said Sachdeva, another area that changed was goal setting. It really solidified the need for solid goals and objectives—to create that plan of action and then make it happen.
According to Romano, Diltex had begun to invest more in the front end of the business even before the pandemic. And that's worked very well for the company. They had to work more on technology that met the customer where they are. Doing the groundwork beforehand meant that, during the pandemic, it eased changing to more digital operations and sales grew greatly. They were better prepared for the shift. That customer-facing technology investment was Diltex's biggest takeaway.
TECHNOLOGY APPROVAL PROCESS
Every company has its own process for requests and approvals of new investments. We asked our CEO duo what their companies require in the request and approval of new technology investments.
At Cotton Heritage, "we [always] require a business case and a projected return on investment," said Sachdeva. But that can create challenges in focusing on the front of the business. If we change behaviors based on customers, it's more difficult to predict how and where to invest in back-end manufacturing processes.
But in some areas, it's easier because you can say to people, Sachdeva asserts, since you can measure X increase in productivity. With productivity or sales increases, you can do the math and show the leadership. And you want those firm KPIs to make and meet expectations.
When taking those steps, "I never ate a return on the investment," Sachdeva said.
For example, Cotton Heritage just invested in a new Salesforce application for customers. And it creates some difficulty because the company will have to predict how fast future customers will change purchasing behaviors to measure the change's impact.
At Diltex, the first step is to answer key questions: What is our business need? What issue are we facing? Is new technology the best way to solve it? Then they create the best possible methodology. Early evaluation and input are very important.
The ease of working in a new software or technology is crucial for Diltex, as well. If the software is not flexible enough, it becomes a challenge your desired outcome is not achieved. Employees can lose momentum and drive with the wrong solution.
Similarly, Romano said it was important for internal stakeholders to understand what is happening, what is needed of them and offer them the freedom to bring innovative ideas to the table. A major initiative or change requires ownership and buy-in from each employee. If you align this, the outcome is always better.
GETTING THE ROI
When talking investments, at many businesses, the first question is, what is the ROI? The second question often is, when is the ROI? Since they mentioned solid business cases, plans and outcomes, we asked our CEOs to discuss how they find and plan for ROI. Is it a formal process?
"It's a difficult question for many business owners to answer, you know?" said Sachdeva. Sometimes you have a hard number, more sales or lower costs to report. But other times, ROI is more nebulous and harder to define.
The benefit of any new solution lies in the types of improvement or processes streamlined that the company is realizing. Once a procedure is streamlined and everything is functioning with the software and we can see the path forward, that's a true feeling of ROI for Sachdeva. And it can take a while to master the learning curve and adoption of new solutions and processes.
Romano agreed that it can be difficult to predict everything. Diltex does have a formal process, however, where the stakeholders predict the outcome and evaluate the financial KPIs that are part of any project/investment. And after you launch the project, some changes and tweaks may need to be made. Having that flexibility is important, as well.
TIME TO ROI
While on the topic of ROI, we wondered whether companies could predict an ROI in general—six or 12 or 18 months—or does it depend on the technology or solution? For example, factories that implement world-class production management solutions, like BlueCherry® Shop Floor Control Enterprise, often see a return on investment in six to 12 months.
Both CEOs said the time to ROI depends a great deal on the technology you're implementing. And referring to what he said before, Romano said it was difficult to get a shorter return when you are investing in the customer side.
Sachdeva agreed and said the time to ROI depended on the product and your goals. When investing in production, he believed it was fairly easy to realize an ROI. Even in product development, it was easier. But with customer-facing technology, it can vary case by case.
TECHNOLOGY SUCCESS
In the software business, there's an idea that enablement is one piece, but engagement is where the real magic can happen. We asked Romano and Sachdeva how they sell their teams on a technology to ensure its success.
According to Romano, Diltex has learned that establishing internal Application Champions is the only way to be successful today. Back when IT was solely responsible for a project's success, things could be very difficult. There was a great disconnect.
Today, success means convincing businesspeople and particularly production workers—those who are managing the new process—you need an Ambassador or Champion to be an expert. They should love what they are doing and evangelize the solution. You must go down to the team that is going to use the application and help them be accountable for success. Champions will drive others and push for the proper implementation.
Sachdeva fully agreed. Getting the end users involved is crucial. A project at Cotton Heritage first "begins with the end in mind." Then they gain buy-in from the core team. If users become a part of the whole process and understand the end state, their buy-in is much faster and more successful.
With each new project, Sachdeva said they build a high-performance team and monitor progress periodically through an accountability lens. At the same time, it pays to be open and flexible with the team.
For example, Cotton Heritage recently developed a new product line software, and the team repeatedly needed more time. They kept asking for more and more time. And yet, these are the end users. They must be comfortable with the amount of change you are presenting.
And challenges will always pop up because we can't predict the future, Sachdeva said. We may be able to predict some scenarios, but no one can accurately predict all future issues. At the same time, however, we will all be busy with whatever challenges come. So, if we meet our goals and address the challenges of today with an eye toward tomorrow, it helps us better prepare.
At the end of the day, we are human beings. We can only work so many hours in a day, dedicating time to challenges compared to everyday work.
ADVICE ON TECH INVESTMENT
Having discussed processes and decision making, we then asked Romano and Sachdeva: What is one piece of advice you would give companies that are reluctant to invest in technology?
Romano's advice was to start by looking at the customer. If you are looking for ways to invest in artificial intelligence (AI) or other technology, it should be invested to meet the customer and improve the experience.
Diltex operates in Mexico. While salaries in Mexico may be lower than in the U.S., it may not be as easy to offer the consistency and quality for customers. Investing in the right technology is important to bridge any gaps. Automating, thus removing human errors from, many parts of manufacturing can drastically reduce errors and streamline production.
Romano likened it to a scenario of going from Point A to Point B. You could ask yourself, "Do I walk, or can I take a car?" New technologies can help to speed up processes companywide.
At Cotton Heritage, which operates in the U.S., Sachdeva mentioned labor is not so cheap, especially in California. So, he recommended finding innovative methods to implement across the business. You want to create a fast speed to the market without necessarily adding more employees.
At the end of the day, we all want to please our clients and customers, Sachdeva stated. Doing business in the 21st century requires companies to move and adapt faster. Using the latest technology, properly integrated, allows companies to go further and grow faster.
As factories are being placed at the heart of the supply chain, the right production management technology can give you visibility into your processes and transparency for brands and retailers. Download our white paper 4 Steps to Digitally Transform Your Factory Floor to get insights on digitally transforming and competing in today's manufacturing environment.