How to Outpace Customer Demand with Technology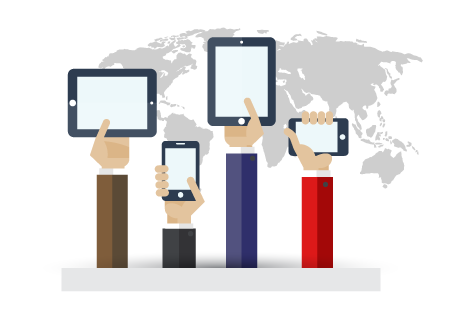 Retail and hospitality businesses today are faced with the difficult task of keeping up with consumer demand. In today's technologically saturated markets, it is imperative for companies to not only meet customer expectations but to exceed them. Finding ways to overcome these challenges can be the key to a business' success.
Many retailers and hospitality companies are finding unique ways to improve the customer experience through technology. Check out these unique methods from the industry.
Customer Experience Ambassador- Employees are provided with the latest in digital technology to give customers a more personalized experience. This technology can include tablets or other smart devices and will allow associates to better engage with customers. These changes can already be seen in the retail industry where more than 70% of storefronts have adopted a mobile Point of Sale system.[1]
Mobile Experience- Smart mobile devices are one of the newest trends in customer experience technology. Mobile POS technology allows associates to get from behind the desk and provide that one-on-one experience that customers crave. 20% of hoteliers plan to add front-desk tablets in the next 18 months to enhance mobile engagement for guests.[2]
Making it Personal- A personal touch usually does the trick. 50% of retailers rank personalization among top 3 reasons for using big data.[3] Many companies are creating that personal experience by implementing locationing technologies to provide personalized coupons and other services directly to a guest's hand held device. Many hotel companies have also employed next-generation room locks that allow guests to open their doors using their smart phones; while retail companies are using their smart devices to order out-of-stock items directly from the store. 
Outsource Helpdesk- Making available a superior help desk is an integral part of providing excellent customer service. Many businesses in the hospitality and retail industry are unable to provide in-house help desk services so many outsource instead. An outsourced technical support desk can provide diversely knowledgeable personnel as well as services in multiple locations and languages.
Data Security- In the last few years, data security has taken the spotlight as an issue that has been plaguing the retail and hospitality industry. For over 77% of CIOs, data security ranks as one of the top 3 priorities in 2015.[4] This focus will allow companies to gain the confidence of the customer rather than assume liability for fraudulent activity.
References
[1] Retail Info Systems News: "Your Last Traditional POS."
[2] Hospitality Technology, 2015 Lodging Technology Study.
[3] Personalization Comes of Age: 2014 Retail and Consumer Insights
[4] National Retail Federation: Retail CIO Download "Agenda 2015: Secure & Innovate.