Incentive Pay Tools Drive Fair Pay Practices and Productivity Gains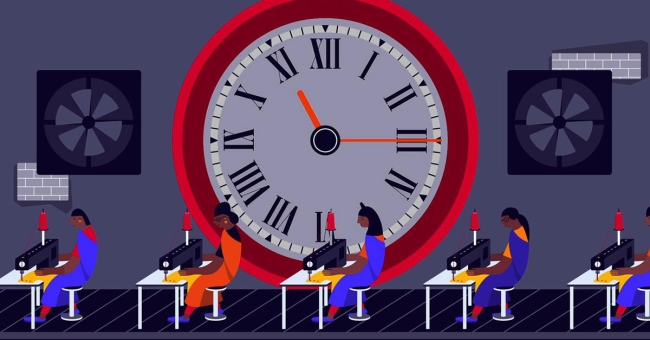 Incentive pay is a common component of compensation plans in fashion and sewn products factories. Compared with manufacturers who pay hourly rates, manufacturers who offer pay-for-performance incentives typically achieve significantly higher productivity rates. In fact, manufacturers that have leveraged Shop Floor Control (SFC) production management solutions to transition from hourly to pay-for-performance compensation models consistently report 20 to 30 percent productivity increases within weeks or months. Their return on investment is quick, which positively benefits the bottom line.
Incentive-based pay gives machine operators and other production workers an opportunity to earn higher wages for superior performance, and, in turn, manufacturers open possibilities to get more products out the door, faster. However, without a software solution to automate them, incentive payroll processes are challenging to set up and manage manually. SFC technology helps ensure incentive compensation programs are managed consistently and equitably based on fair standards and accurate information about exactly what is happening on the factory floor.
Why Incentive Pay?
With incentive pay programs, an associate receives a base hourly wage, which is usually a rate somewhat higher than the minimum wage. They are expected to perform at a specified productivity level, processing a target number of units or bundles of work. Then they receive additional pay if they meet or exceed that productivity target. Some companies also offer incentives for achieving target quality levels or other benchmarks. Often, incentive pay is based on the output of a production team or group.
The incentive pay might come in the form of daily bonuses and/or a higher pay rate for work performed after incentive goals are surpassed. Piece-rate incentive systems are popular among employees when the programs are administered fairly, consistently and with transparency to the process and metrics used to calculate pay.
In a two-year study at a Thai apparel factory, University of California, Berkeley, researchers found that a well-run compensation system, including incentive pay for higher performance, increased productivity by 8 to 10 percent and decreased employee turnover significantly. "Workers, in four sets of focus groups conducted by a third-party, reported increased satisfaction with the new wages and more satisfaction with management, as a result," stated the research.
How SFC Streamlines Incentive Pay Program Maintenance
A production management technology, such as CGS BlueCherry® Shop Floor Control Enterprise, helps businesses implement incentive pay programs more easily and gain greater benefits from those programs. For example, BlueCherry SFC interfaces with standard data systems, including GSD, which are used to establish work methods and piece-work rates based on global, predetermined time standards. This seamless integration reduces administrative time to set up and maintain the incentive payroll program.
More importantly, using SFC technology, manufacturers automatically gather individual production performance data over time. Thus, the manufacturer has easy access to accurate metrics regarding operator capabilities and each operator's average pay rate with incentives. This data is helpful if the business needs to assign an operator to an off-standard activity, such as making samples. There is no guesswork about what pay rate is fair. Managers can be sure highly skilled operators receive their average rate or a previously agreed-upon rate when they are assigned to work off-standard.
Also, BlueCherry SFC includes a comprehensive source-to-gross payroll solution that automatically collects data as workers scan barcodes or RFID tags for each of their activities. It has established interfaces with popular gross-to-net payroll management solutions and services. And data is automatically collected at employee workstations on mobile tablets. Using these industrial-grade tablets, machine operators simply scan their badge to clock in and then scan bundles to start tracking their productivity. This automation eliminates requirements for time clocks, paper tickets, gum sheets and the manual recording and processing of production and gross payroll information.
As a result, SFC greatly reduces time and errors in calculating incentive payroll—all with fewer administrative tasks and information hand-offs. For example, manufacturers eliminate manual payroll calculations and end-of-shift supervisor reviews of timecards, tickets or gum sheets.
Shop Floor Control Enhances Incentive Pay Programs
The right production management solution can enhance your incentive payroll program in several ways:
Motivate and Reward High Productivity
It encourages and rewards high productivity. Associates see their performance and incentive earnings on their workstation tablets, so they are clear on their goals, status and pace required to earn incentives. They also see their team's or line's real-time performance on big-screen monitors in the factory. They have easy access to tools to review instructions and ask for help. The UC Berkeley researchers found that apparel factory employees appreciate systems and practices that give them greater control over their work and earnings.
Recognize and Reduce Downtime
With SFC, supervisors and mechanics are immediately notified of off-standard events and can act to rectify issues. These events are identified and tracked by specific codes, helping raise awareness for issues to address. Faster downtime remediation has direct correlation to associates' opportunity to optimize their individual performance and incentive payroll earnings. It also helps the factory keep production lines balanced and speed overall throughput.
Provide Transparency and Build Trust
A production management solution like BlueCherry SFC gives manufacturers a wealth of data and reports to provide to customers. This visibility is increasingly important amid heightened focus on corporate social responsibility and brand reputation. Manufacturers can offer a clear view to pay practices, including how they set rates and structure incentives. For example, the SFC solution continuously and automatically maintains production logs, time-and-attendance records and history about the handling of off-standard events. Manufacturers proactively have this information ready to share—in meetings with customers, on a regular reporting schedule or at a moment's notice. With real-time data, they can:
Demonstrate adherence to all regulations, laws and best practices
Show how pay and incentives are applied equitably and fairly across their operations
Reduce the risk for human bias, errors, fraud or favoritism by tracking and managing myriad factory activities within the SFC solution
Success in Sewn Products
Incentive payroll programs have a long track record of success in the fashion and sewn products industries. When managed properly, they are popular with production associates, manufacturing leadership, retailers and brands, all of whom value visibility to fair pay practices and higher productivity.
Download the 4 Steps to Digitally Transform your Factory Floor Whitepaper for tips on how you can boost your factory's productivity, employee morale and reputation with brand owners and retailers.