Measuring What Counts: 10 Learning Analytics to Live By
Who invests in assets that don't report performance? 
It's irresponsible to spend money without an expected return, yet the global training industry invests $350B annually with few organizations measuring return on investment (ROI)1.   Many learning directors and managers have ROI on their To-Do list, but it's been an uphill battle having regular KPI conversations with the C-suite. According to the Corporate Executive Board (CEB), 45% of investments in corporate learning are ineffective, and only 12% of CFOs have any confidence in their learning and development investments.
The good news is that we're on a mission to help learning leaders navigate the issue of ROI. Leveraging our insights into the best practice programs and key metrics built into client projects serving nearly one million learners across the globe, we're launching a three-part blog series on Measuring What Matters in L&D. 
Part I of the series (this article) looks at what L&D leaders typically measure and provides suggestions on opportunities where learning teams can go deeper.
Part II explores the critical business KPIs on the C-suite's dashboard and scorecards.
Part III compares and contrasts business and learning metrics side-by-side, creating a complete checklist of the metrics that matter.
Why measure learning?
Executives need a signal that the investment in learning is valuable. According to CLO Magazine, 74% of executives expect ROI and 96% want business impact2. HBR states when learning is "practical, supports organizational goals, and is provided for employees," organizational performance improves3. If executives want learning measured and it's important to the business, why is measuring learning ROI so difficult?
The ROI calculation is simple.
Program Benefits – Program Costs

---

Program Costs

x 100 = ROI%                               
Current Challenges and Blind Spots
Learning teams rarely track the full breadth of program costs.   
They track travel, meals, and materials, but exclude internal development, printing, facilitation, technology, or time off the job. Learning teams must include the total program costs in ROI measurements.
Learning teams develop programs without clear business objectives.  
Executives need increased sales, strong leaders, and improved safety, but most programs lack direct alignment with business targets.
Without clear costs and benefits, calculating ROI is, quite simply, impossible.  
What's most commonly measured?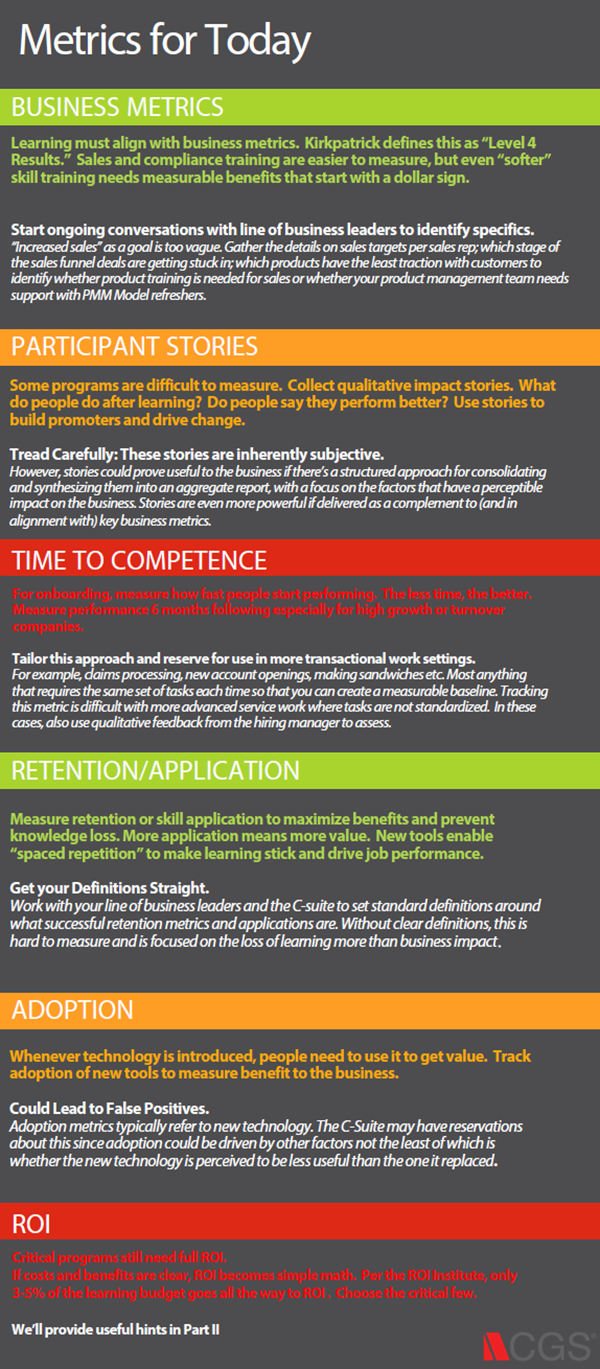 Now, let's talk about the future
As technology matures, and "Big Learning Data" emerges through xAPI connections and record storage, new methods for capturing data may provide valuable insights for refining your learning and training strategy.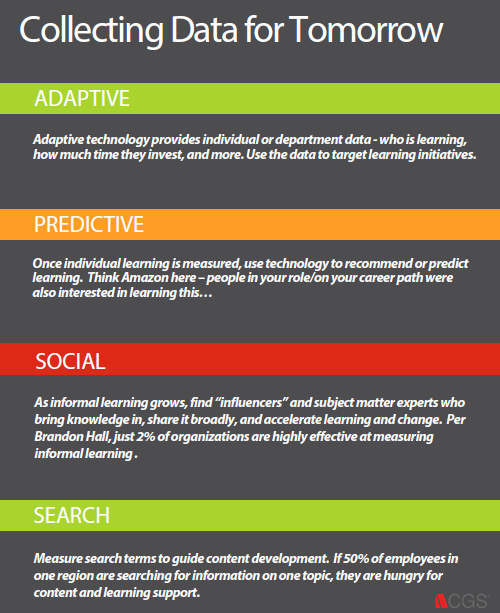 What can you do now?
Learning metrics are challenging, so here are a few tips that will move you closer to the holy grail.
Do some research – start talking to IT and Finance about gathering business requirements. They have defined methods for calculating expected benefits before projects launch. They can provide the language to align with senior executives.
Think small and agile – don't measure everything. Identify the hottest business issues and measure the pilot. Extrapolate organizational results from pilot data.
Build technology skills – HR technology spending is growing within "employee learning systems," so learning teams need the skills to talk to vendors and IT about how to leverage the new data4.  
Start a scorecard – it may be one metric, but start somewhere. Get a baseline and add over time. When executives see useful metrics in the language they speak, they will want more.  
People are assets that increase in value over time, so make the best of the $350B. Invest it wisely.
________________________
1 Training Industry – Size of Training Industry, 2017
2 CLO Magazine – How Executives View Learning Metrics, 2010
3 HBR – Maximizing Your Return on People
4 Kirkpatrick Partners – The Kirkpatrick Model
5 ROI Institute – Measuring ROI – The Process
6 Brandon Hall – Measuring the ROI of Informal Learning
7 Deloitte – 2017 Deloitte Global Human Capital Trends
---