5 Risks of Downtime That No Company Can Ignore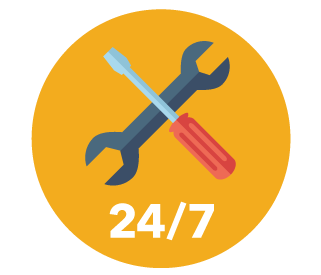 Reliability. Scalability. Availability. These 3 business buzzwords may seem obvious but they represent real concerns for many IT organizations. Global demands and tighter deadlines have put pressure on companies to not only perform but to exceed competition. The emphasis placed on providing a dependable IT infrastructure with reliable applications has become management's fiduciary responsibility. Inadequacy in this area could mean enormous costs, a negative impact on the brand and damaging downtime. 
The following list represents the top 5 risks of downtime for most companies:
1. Cost
This seems obvious, right? It is no secret that downtime can present a huge cost to any company that experiences it. Even a minor outage can cost thousands for some firms. For businesses with revenue models that depend almost entirely on a data centers' ability to deliver IT and networking services to customers, downtime can be particularly costly, with the highest cost of a single event topping $1 million. While cost is an inevitable part of business, downtime cost, specifically, is unnecessary and, in many cases, avoidable. 
2. Business Disruption
Business disruption means any amount of time that a business's day-to-day activities are interrupted
in anyway. Because most companies rely on the work of their IT team to not only stay connected to their customers but to also run their routine operations, it is important for those teams to be up and running at all times. Downtime in technology could potentially mean disruptions that affect all departments throughout the organization.
3. Impact on Loyalty and Reputation
Downtime can potentially ruin a company's reputation. One interruption could mean a disturbance in the customer experience or even lost business. Today's customers expect access to information and services easier and faster than ever. It is increasingly imperative for businesses to not just keep up with customer expectations, but exceed them. According to Bain & Company, a customer is four times more likely to defect to a competitor for service-related problems than issues related to price. In a market where most products offer similar features, customer service is usually the factor that sets your company apart. 
4. Lost Revenue
Lost revenue is a necessary evil that no company ever wants to accept. IT downtime costs $26.5 billion in lost revenue each year with many companies unable to recover. It is difficult to measure these costs because they vary by industry. In some industries, such as retail or hospitality where there is seasonality and peak periods, downtime can translate into millions of dollars of annual profit loss. The simplest way to estimate the probable loss of revenue from downtime on an annual basis is with this equation: 
Lost Revenue = (GR/TH) x I x H
GR: gross yearly revenue, TH: total yearly business hours
I: percentage impact, H: number of hours of downtime
5. Employee Productivity
Lastly, downtime costs can impact employee productivity, which can be evaluated in terms of the salaries, wages and benefits of workers that are not able to do their job as a result of downtime. After a downtime event, an investigation is usually required to correct the damage that has been done. For instance, your IT operations team might have to work overtime at overtime rates to recover lost data or to uncover the source of the problem. And further, if customer satisfaction was damaged, an expensive marketing initiative may be necessary to get your customers back.
With technological pace rapidly changing, it is important for organizations to keep up with the tools, knowledge and certifications necessary to manage core business initiatives. While some downtime is unavoidable, companies expected availability can be paramount to their success. According to the "Information Technology and Intelligence Corporation High Availability" survey, 60% of companies require over 99% availability. The challenge is to pinpoint the sources of downtime and calculate the costs to gain the necessary business insights needed to reduce them. After evaluating all costs, your company should be able to identify the effect downtime has on both your financial value as well as your market and competitive standing. Knowing the risks of downtime will not only help you identify risks but should help your company prevent these risks in the future. 
---
 References:
Winds of Change Blog, "Downtime, Outages and Failures - Understanding Their True Costs"