Workplace Learning: Top 7 Trends and Predictions for 2016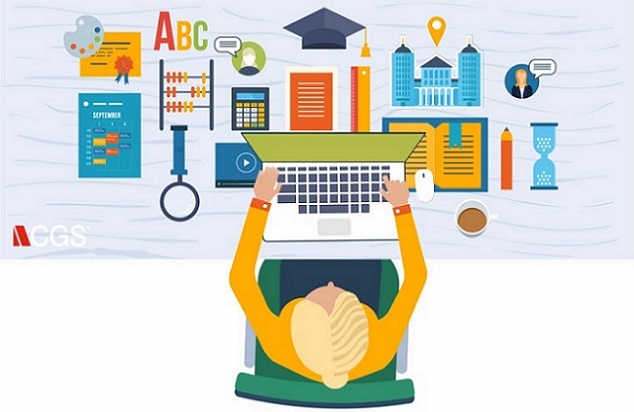 Technology evolves and changes rapidly in every industry, seemingly faster with each passing year, and corporate Learning is no exception to the rule. Yet in Learning, it is important to be able to recognize the difference between temporary fads and truly transformative trends.
A number of the trends that will shape the industry in 2016 do already exist, but they will materialize into more significant factors in the upcoming year. Here are 7 workplace Learning trends and predictions that are expected to make an extensive impact on Learning in 2016:
1.) An increasingly diverse workforce
Workforce demographics have never before been so varied and diverse. Organizations are now faced with an unprecedented opportunity to address the needs of fully four generations of employees. Furthermore, global enterprises are experiencing a sometimes greater diversity in workforce. In addition, adults are remaining in the workforce longer than before. The U.S. Bureau of Labor Statistics reported that the labor force participation rate for those aged 65 and older has been rising since 2011.[1] At the same time, Millennials are the largest generation in the U.S. workforce.[2] All the while, technology is changing faster than ever.
This has created an environment where it is incredibly important for organizations to provide a more personalized learning experience. It is also necessary for organizations to meet the technology needs of an increasingly diverse workforce, like providing the option to use both mobile text responses and desktop keyboard responses in a Learning program.
2.) Micro-Learning
Diversity and increasingly busy lives with external demands influence the pace of work. So workplace Learning that is both timely and easily digestible is increasingly important. A Bersin by Deloitte study published in 2014 showed that today's workers can devote only 1% of their workweek to professional development and learning.[3] Assuming a 40-hour work week, that leaves just 4.8 minutes a day to focus on Learning.
Micro-Learning, which typically focuses on one single Learning objective with shorter, bite-sized videos, games, podcasts, micro-courses or posts, can address this issue. Micro-Learning experiences align with modern decreases in attention span and the increasing tendency to multitask. Micro-Learning can deliver information anytime, anywhere, as long as learners have access.
3.) Social Learning becomes more pervasive
In the age of "DIY" and "How To" videos, people of all ages reach thousands, sometimes millions, of others via YouTube. In a similar vein of sharing, experts within a company can deliver Learning to their colleagues almost instantly. Learning has gone social.
In 2016, Learning will be more social than ever as learners share what they know with their networks and seek to learn from those same people. Sharing knowledge and skills digitally is a transformative trend that Learning leaders will want to capitalize on. And organizations who can harness the pervasive power of social sharing and collaboration, enabling their employees to collaborate and learn from one another, are likely to realize Learning innovation.
4.) A rise in mobile adoption
Mobile technology usage is not new, but the trend continues to grow. Today, 90% of American adults own a cell phone.[3] And, according to Google, most people check their phones around 150 times a day and spend 177 minutes on their phone per day.[4] This has changed employees' expectations for information availability. They expect to be able to access the information they need as immediately as can when they are using their mobile devices.
The interesting, and somewhat challenging, thing is that adults of different ages use mobile technology differently. Adults over the age of 50 tend to choose different applications and use them at a different level of frequency than younger workers. It is necessary for organizations to offer a mobile Learning user experience that is comfortable to all age groups or to personalize user experiences within the platform. The graph below illustrates the differences in internet usage by age group: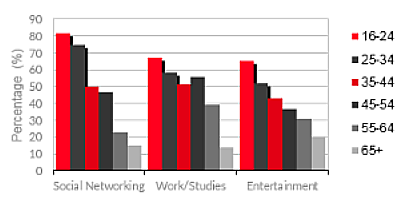 Source: HCI 
Taking a mobile-first approach to development makes sense. There are both technical constraints associated with mobile vs. desktop web-based development and deliverability issues that drive into this trend. However, smart organizations recognize that mobile devices have become the primary tool for learners and want to cater to those behaviors and needs.
5.) Video content plays a more significant role
According to Google, 98% of 18-24 year-olds reported watching video content on smartphones on a typical day and Millennials are 2x more likely to be focused while watching video on their smartphones.[5] Video is fast becoming a preferred medium for learning with 91% of smartphone users turning to their devices for ideas while completing a task. Furthermore, 67% of Millennials believe that they can find a YouTube video for anything they want to learn.[6]
Video is playing a significant role in mobile Learning and the rise of micro-Learning for both learners and the content creators who want to reach them. And while video consumption is on the rise, it is important to note that viewers are unlikely to spend a lot of time watching any single video. Research suggests that short videos are the most effective; somewhere in the 45 second to 120 second range.[7]  
Organizations should capitalize on the video trend by delivering their Learning objectives in videos that are short enough to be consumed by the learners. This is not to discount digital Learning or instructor-led training, as some learners may still prefer other methods of Learning. But Learning leaders recognize the importance of delivering Learning content through video.
6.) Data and analytics
The Human Capital Institute's annual report, 2015 Talent Pulse - Learning Unbound: Agile Employee Development, U.S. companies spend $164 billion on training and development annually, but only 21% regularly measure how learning is used on the job. Measurement is a key factor in determining the success of a Learning program and when and how to improve it. Moreover, the shift to digital media has made available an enormous amount of data that should be put to use. IDC estimates that the digital universe is growing by 40% a year into the next decade and global organizations need to keep pace.
Focusing on how to measure business results from the beginning will put organizations in a better position to be able to adapt and thrive in a digital economy. With that established, organizations can work backward through Kirkpatrick's levels of evaluation to make sure they collect the data to help them measure Learning results at all levels. Learning and Organizational development teams need to focus on metrics and understand that analytics are an essential part of any Learning program.
Learning analytics should be used to unlock actionable metrics to guide talent strategy, to inform business strategy, to uncover new opportunities for performance, to create the visibility that can secure new budgets and even to elevate Learning professionals' leadership roles within their organizations. Develop a Learning culture that is focused on outcomes that is not afraid to harness "big data" within the workforce. It is also important to collect the more commonly used data related to demographics and accesses. All of this will allow organizations to adapt better.
7.) Recognizing and seizing opportunities
While some of these trends already exist and are simply coming into focus more in 2016, and some may be in the beginning stages of their evolution, all of them create a significant opportunity for Learning leaders to deliver greater business value within their organization. Learning is becoming a sharable, pervasive, social experience that is as digital and mobile as any industry. Learning is shifting away from the monolithic courses of the past to shorter, tailored, even micro experiences that make sense to a modern worker and fit seamlessly into their everyday lives. Understanding and recognizing these key trends can help improve the Learning experience at any organization.
What do you think of these 2016 Learning and Organizational Development trends? Let us know in comments below!
References
| | |
| --- | --- |
| [1] | C. Copeland, "Labor-force Participation Rates of the Population Ages," Employee Benefit Research Institute, [Online]. Available: https://www.ebri.org/pdf/notespdf/ebri_notes_04_apr-14_lbrpart.pdf. |
| [2] | R. Fry, "Millennials surpass Gen Xers as the largest generation in U.S. labor force," PewResearch Center, [Online]. Available: http://www.pewresearch.org/fact-tank/2015/05/11/millennials-surpass-gen-.... |
| [3] | "Mobile Technology Fact Sheet," PewResearch Center, [Online]. Available: http://www.pewinternet.org/fact-sheets/mobile-technology-fact-sheet/. |
| [4] | M. Lawson, "Win Every Micro-Moment with a Better Mobile Strategy," Google, [Online]. Available: https://www.thinkwithgoogle.com/articles/win-every-micromoment-with-bett.... |
| [5] | "How Mobile Video Can Drive the Future of Brand Marketing," Google, [Online]. Available: https://www.thinkwithgoogle.com/articles/youtube-insights-stats-data-tre.... |
| [6] | "I Want-to-Do Moments: From Home to Beauty," Google, [Online]. Available: https://www.thinkwithgoogle.com/articles/i-want-to-do-micro-moments.html. |
| [7] | "The optimal length for video marketing content? As short as possible," The Next Web, [Online]. Available: http://thenextweb.com/socialmedia/2014/05/02/optimal-length-video-market.... |