Trusted by these amazing companies
BlueCherry Suite Includes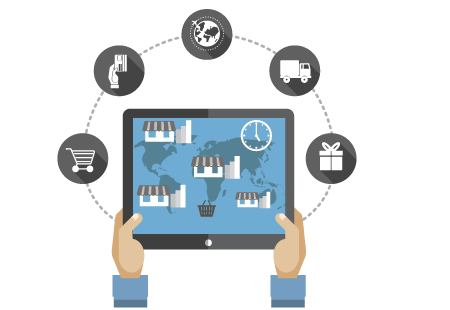 Integrated Solutions for Omnichannel Success
The growth of omnichannel commerce has challenged apparel and consumer lifestyle products companies as never before to evolve many planning, supply chain and distribution activities to meet customers' expectations of a seamless shopping, delivery and returns experience. To accomplish this, companies require solutions and technology partners that can improve, streamline and synchronize the way they design, develop, produce and deliver their products in today's omnichannel business environment.
As companies face stiff pressure to control product and operational costs, manage ongoing supply chain complexities, reduce time to market, improve visibility and meet growing social and regulatory compliance, CGS's BlueCherry® Enterprise Software with its apparel ERP and PLM components provides the platform necessary to compete and succeed.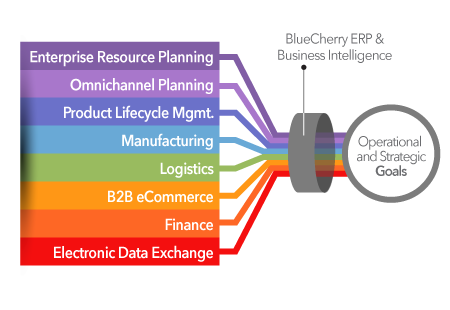 Concept-to-Consumer Capabilities
CGS's BlueCherry Enterprise Suite has the built-in capacity to address the fundamental needs of all core management, planning, design and product development, sourcing, manufacturing, logistics and sales functions.
Our flexible, modular approach allows us to configure solutions to fit each client's aspirations — launching as one comprehensive integrated system that reaches across a client's entire organization, or implementing in a step-by-step fashion to grow along with a client's business.
With end-to-end capabilities, the BlueCherry Enterprise Suite enables consumer lifestyle products companies to manage critical business transactions and concept-to-consumer processes to improve speed to market, gain greater process visibility and control, increase productivity and operational efficiency, reduce costs and enhance competitiveness.
Proven Industry Expertise
With 30+ years of industry expertise, CGS's Applications team understands the mission-critical nature of the processes our BlueCherry Enterprise Suite supports, delivering unparalleled software capabilities to keep your business fundamentals strong for years to come — and to be there, by your side, through everyday challenges and major changes in strategies, technologies and market needs.
We've built and actively facilitate a global community of CGS experts and BlueCherry users that's unmatched in the industry, providing an open forum for clients to share strategies and best practices. This is a fundamental element of our long-term partnership approach - globally proven implementations and world class technical support.
250,000+
250,000+ users worldwide
$40 Billion+
BlueCherry customers together deliver $40bn+ in annual retail sales
"The nice thing we found is that the BlueCherry product has allowed us to standardize on one platform and then configure the software to meet our unique business requirements" 
Keith Smith
CGS News
CGS to Host Webinar Addressing Upcoming Upgrade to Microsoft Dynamics 365 for AX, GP, SL

New York, NY – July 11, 2017 – CGS, a global provider of business applications, enterprise learning and outsourcing services, today announced it will be leading a webinar, "What to

NYC Alliance Holdings Selects CGS BlueCherry® PLM to Provide Full Visibility into Product Development

New York, NY – June 15, 2017 – CGS, a global provider of business applications, enterprise learning and outsourcing services, today announced that NYC Alliance Holdings, Inc., a mu

CGS to Participate in and Sponsor Webinar Focused on Fulfillment Strategies for Multichannel Brands and Retailers

New York, NY – May 17, 2017 – CGS, a global provider of business applications, enterprise learning and outsourcing services, today announced it will be sponsoring and participating in the Apparel Magazine webinar, Smart Inventory Fulfillment Strategies for Multi-Channel Brands & Retailers, on Tuesday, June 6, at 2 p.m. EDT.