Top 3 Business Challenges and How Outsourcing Can Help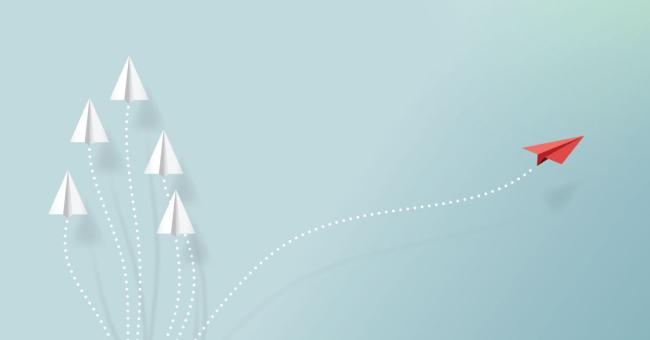 In our 2021 survey, we put three very direct questions about support to 200 business leaders and decision makers from a wide range of industries:
What are your top strategic goals for contact/call centers in 2021?
What are your top anticipated challenges to contact centers in 2021?
What factors are preventing you from using outsourcing services in 2021?
Top Strategic Goals
Improve customer experience 41%
Reduce costs/offer more predictable costs 41%
Improve work-from-home capability and security 37%
The top outsourcing goals for 2021 line up with responses in recent years: participants indicate that balancing experience and costs are still the primary goals for contact centers. It's no surprise that work-from-home capability made the top three, due to business disruption from the pandemic.
Going forward, 65 percent of service leaders expect to be using remote or hybrid work models. Organizations need to equip their teams with remote-ready technology and training that enables them to be able to work from any location. This hybrid approach may require both process and technology upgrades to maintain security for consumers and clients.
Challenge 1: Keeping Up with Business Changes
Going into 2020, the top challenges in contact centers centered on customer data security and fraud prevention (47 percent), business continuity and disaster recovery (37 percent) and infrastructure stability (37 percent). The COVID-19 pandemic starkly revealed which companies had these plans in place—and which were turned upside-down.
Companies that were prepared, with tested plans and reliable infrastructure, at the beginning of 2020 were able to hold solid ground through the year. The biggest devastations occurred in organizations that were lacking these systems. They found themselves scrambling to adapt without a solid business foundation to build on.
After 18 months of disruption and uncertainty, businesses are still grappling with changing markets and business due to the pandemic. Fresh supply chain issues are being experienced as key manufacturing nations see factory shortages and shutdowns. Markets that were stable or rapidly improving are slowing in some cases, while others expand.
While the global situation changes daily, what hasn't changed is consumer demands and expectations. The desire for quality products and customer service excellence has increased.
In times of disruptions and repeated ups and downs, how do organizations keep up with changing business and market landscapes?
What to Do
As with many modern issues, the right technology investments can help build a solid foundation for companies. With proper implementation and integration, these tools can ease the current disruptions and protect organizations against future ones. Here are some of the technologies in which companies are investing:
Work-From-Home Tech: More than half of our survey participants are spending more to upgrade technology for work-from-home employees, such as Virtual Desktop Infrastructure (VDI). An effective VDI system creates flexibility in workflow, helping companies avoid disruption when scaling up or down.
Advanced Analytics: Half of those surveyed are also increasing spending on advanced analytics to improve efficiencies by making better use of the data flow in their contact centers. Better data sheds light on opportunities for improvement and allows for more intelligent decision making. For example, if analytics show a common theme in complaints about a shipping problem, the organization can address the root cause to minimize similar issues in the future.
Immersive eLearning: Nearly 45 percent are investing in more immersive e-learning, which is no surprise given teams are more dispersed than before. In-person training options are limited, so organizations need to adjust so distanced team members can access quality information.
Artificial Intelligence: An Intel survey shows how much confidence in AI is growing. Before COVID-19, 45 percent of respondents said their business was deploying or planning to deploy AI. This number skyrocketed to 84 percent after the pandemic began.
Other notable investments in 2021 include an increase in spending on tools for quality monitoring and management (36 percent), Robotic Process Automation (31 percent) and tech like augmented or virtual reality for remote diagnosis / guidance (31 percent).
These investments could alleviate numerous issues, such as substantial volume increases in specific industries as consumer behavior shifted during the pandemic. They can also address plans to lower costs and improve outcomes by automating routine calculations and data-driven analysis, allowing humans to focus on tasks that are more complex and/or require empathy.
Challenge 2: Availability of Labor
The human element is another challenge facing tech support/contact centers. In April 2021, the U.S. Department of Labor Statistics recorded the greatest number of quits in 20 years. Contact and call centers often have higher turnover rates than other industries, as well, 30 to 45 percent by some measurements.
These job changes could be due to shifting passions or priorities for workers. It could be due to stresses or reactions to how organizations operated in the pandemic. Whatever the reasons, this "Great Resignation" signals a labor shortage and a "war for talent" that has been building for years.
In this environment, it can be tempting for companies to throw money at the problem and hope it resolves itself. However, pay rate is only one factor in an employee's satisfaction.
What to Do
Finding the right outsourcing partner is the first step toward meeting many of your goals. And the best providers will already have plans in place to find, train and retain the best talent to meet your business needs.
Find Talent: BPO providers with a global presence can offer tech support and call center functions in a variety of languages and cultures to meet your customers where they are. This diversity also extends to the talent pool, which is greatly expanded when the company has a presence in multiple geographies. And once great candidates are found, the partner should find the right roles for them. The company and the candidate should have the same expectations from the outset.
Know Motivators: To attract top talent, your provider should understand what candidates want. As Generation Z (born between 1995 and 2012) enters the workforce, they are showing some different priorities. In one survey, Gen Z candidates in the U.S. stated that free food, merging their passion with a company's mission and professional development opportunities as most appealing in a job.
Training: Top training techniques and technologies should be employed when gearing up support agents and technicians. Agents need to know and apply hard skills, such as working with AI-assisted support and immersive tech like augmented reality to work with customers. But they also need a wealth of soft skills, such as empathy, to offer the optimal experience for your customers.
Engage and Retain: Effective onboarding goes beyond the first few weeks to merge with a more robust learning model that builds engagement early on in an employee's tenure. Studies show that building new hires' skills, helping them understand their place in the company's mission and establishing a career path are great ways to engage them for longer tenures.
So, now you have a more flexible business model and the people in place to help support customers and clients. What about how they work with yours and your customers' data?
Challenge 3: Customer Data Security
Data privacy and cybersecurity are a major concern for most companies. CEOs, particularly in industries that handle sensitive data, have valid concerns that outsourcing will put their company's and its customers' information at risk. And data privacy / cybersecurity was the top capability that drove companies' decision-making for outsourcing in our 2021 survey.
What to Do
When considering an outsourcing vendor, you must evaluate their security. And you must dig deeper and ask a number of questions to determine more than their facilities and systems security. Are they PCI compliant? Do they have SOC 2 or SOC 2 Type II certification? What processes and plans are in place for working with company and customer data? How are these changing to support WFH and hybrid work environment?
Consider Outsourcing
The rapidly changing nature of business and availability of labor mean that companies won't necessarily be able to hire more people, so a digital transformation or evolution is essential. Organizations will lean more on technology to improve the efficiency and abilities of its current workforce. And working with an outsourcing provider is one way to save costs and improve efficiencies without purchasing more technology or hiring more people directly.
A good BPO partner will have the experience and infrastructure to handle "basics," such as recruitment, training, process design, technology implementation and facilities arrangement. Ongoing service delivery will feature clear expectations, performance measurement and ROI. Your partner can even collaborate with you to conduct strategic business initiatives and major technology or service transformations.
For a successful outsourcing partnership, a sound business case based on a robust solution is essential, as is the right choice of partner and the right contractual agreement. With all these elements in place, outsourcing can allow your IT executives to resolve pressing challenges and give themselves the space to shape responses to the types of tech support and help desk trends they're facing each year.
If you are looking for answers to how business process outsourcing can meet your needs, reach out to one of our BPO specialists for more information.