Augmented Reality Takes the Sting out of Right to Repair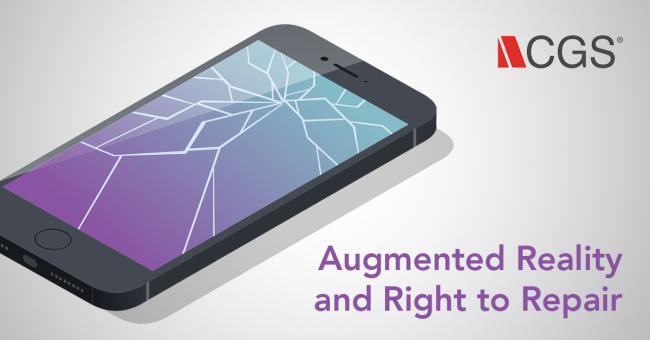 Right to Repair is a growing movement that has triggered new regulations and customer interactions in several countries worldwide. A large number of manufacturers that have made it virtually impossible to repair products, coupled with the ever-increasing e-waste problem and changing consumer after-sales expectations, have led to the new regulations and expectations.
A recent study found that 61 percent of consumers annually toss out electronic devices or household appliances because they are too difficult or too expensive to repair. The resulting electronic waste (called e-waste) is becoming the fastest growing waste stream, which has increased by 21 percent in the past five years and is expected to reach $103 billion by 2027.
Consumers' attitudes are changing; 44 percent are aware of the Right to Repair movement, and 75 percent agree that manufacturers should allow consumers to repair their devices to keep them in use as long as possible and mitigate e-waste. Consumers want to avoid the inconvenience of downtime, costly repairs, or the hassle of scheduling field service calls. Eighty percent would attempt a DIY repair of a household appliance if they had easy access to instructions and parts.
Some Right to Repair regulations are forcing consumer appliance and device manufacturers to redesign their products to be repairable by end-users or third-party fixers, extend product longevity and stock replacement parts for up to ten years. The good news is that consumers see the value in the movement and are willing to pay more for products that are repairable or that come with an extended or lifetime warranty. The bad news is that the impact on manufacturers is significant.
Manufacturers must continue to innovate while tackling the challenge of re-engineering their products, production lines and inventory parts management to deliver and support repairable products for the growing DIY consumer culture. The impact on businesses is across the board: customer support, finance, R&D, operations, IT and sales.
Consumers are no longer satisfied with or even willing to thumb through an owner's manual to figure out an issue with a device or appliance. Traditional customer support methods, such as chat, videos, FAQs, chatbots or phone support, fall short in enabling consumers to successfully perform repairs. Consumers prefer simple, step-by-step DIY lessons and video support calls with a technician to show the appliance, understand the problem and be talked through the repair.
Enter augmented reality (AR) technology, which can take the sting out of Right to Repair for manufacturers and consumers. AR enriches the physical world with digital information, visual diagnostic capabilities, offering 'see what I see,' sales and eCommerce applications. Augmented reality is being adopted to meet a number of consumers' needs. It also makes customer service smarter and eases manufacturers' efforts to support Right to Repair.
With the widespread use of smartphones and mobile devices, as well as growing adoption of AR gaming among consumers, immersive remote assistance applications are a great way to resolve product issues. Forty-five percent of respondents to a recent study said they would try AR in setting up, installing, or repairing a device.
AR applications can enrich customer support by:
Guiding consumers through an entire repair process, step-by-step
Enable customer support to see what the consumer sees
Display appliance parts deep inside the device that aren't visible
Reducing downtime and consumer frustration
AR can give companies a real advantage because it enables companies to balance providing empathic human experiences that consumers expect with increasing operational efficiency that manufacturers require. According to IDC Research, field service and post-sales support will lead AR investments which are forecasted to reach $4 billion by 2024 and over $1 trillion by 2030. AR's growing popularity stems from its ability to integrate digital information with the physical world in real-time, using smartphones as the hardware interface for AR applications.
AR also enables manufacturers and brands to meet customers where they are (on their smart devices) and interact with them to empower them to tackle appliance repairs. Forty six percent of consumers said they would be more likely to attempt DIY repairs if brands provided support in the process, for example, by connecting with an expert using "see what I see" technology to guide them through repair steps. Knowing they can connect with an expert using immersive technology gives consumers the confidence to try.
How can manufacturers get started with AR to support DIY consumer repairs? There are six steps to follow:
Develop a deep understanding of consumer environments, expectations, and needs
Identify the top use cases based on consumer impact and ease of implementation
Identify AR technology opportunities that align with prioritized use cases
Define new operating processes for customer support and digital teams to address organizational readiness issues
Define the technology stack with a focus on low-code environments
Invest in developing AR content
The last step is worth calling out. The effectiveness of any AR DIY repair application depends on the quality of the content. Investing time and resources to develop and test the content with consumers before releasing it is critical to success.
The benefits of AR go beyond helping customers repair their devices. Immersive remote support also helps manufacturers manage higher-than-average technician and field service turnover by more quickly onboard new technicians by tapping into more experienced resources virtually. According to Aberdeen Research, organizations that adopt AR perform 25 percent better than their peers in regulatory and service level agreement compliance, customer retention, service costs and revenue improvement.
Supporting Right to Repair with AR via smart devices offers manufacturers and brands new ways to connect with their customers and build satisfaction. Furthermore, it makes high-effort interactions with customers low-effort, which is key to customer loyalty. AR takes the sting out of Right to Repair and is a proven path to slow down electronic waste generation.
To see more details around why manufacturers should care about right to repair, view and download the infographic from our recent study.