COVID -19 Update: CGS Global Contact Center Response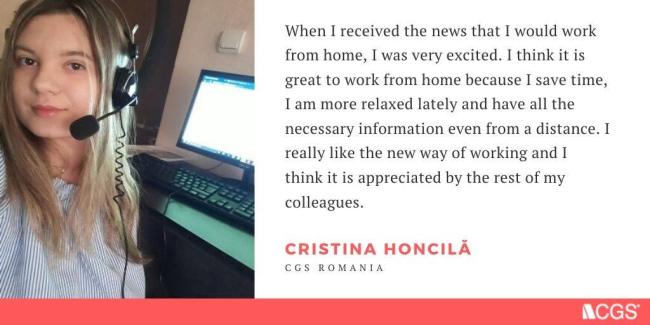 CGS has taken several measures since the beginning of March due to the growing pandemic. Here are the steps we've taken to ensure that our employees, our customers and our business can remain resilient through this crisis.
KEEPING CONTACT CENTER SITES SAFE
As the Coronavirus began to spread around the globe, CGS put in place measures recommended by health authorities and experts. We have implemented these recommendations at our offices and contact centers in all regions. We have taken the following measures to reduce risks to employees that report in person now and to those that did while the company began enacting more aggressive business continuity plans.
Activated new rules regarding access and departure from the office and access to common spaces as to have as few people as possible in confined areas like elevators, entry ways and communal spaces
Instructed employees on good hygiene practices and how to properly clean workspaces 
Provided hand sanitizers and solutions for sterilizing desks
Increased the frequency of cleaning furniture, equipment and high use areas to several times a day
The CGS infrastructure was already prepared for a Work From Home model and some teams in each geography had already been working remotely. We quickly reached out to clients to advise them on the developments in our call centers around the world.  We worked with them on our business continuity plans and objectives.
TRANSITIONING TO WORK FROM HOME
By the end of March, 100% of our teams across North America and 95% of our teams globally were working remotely.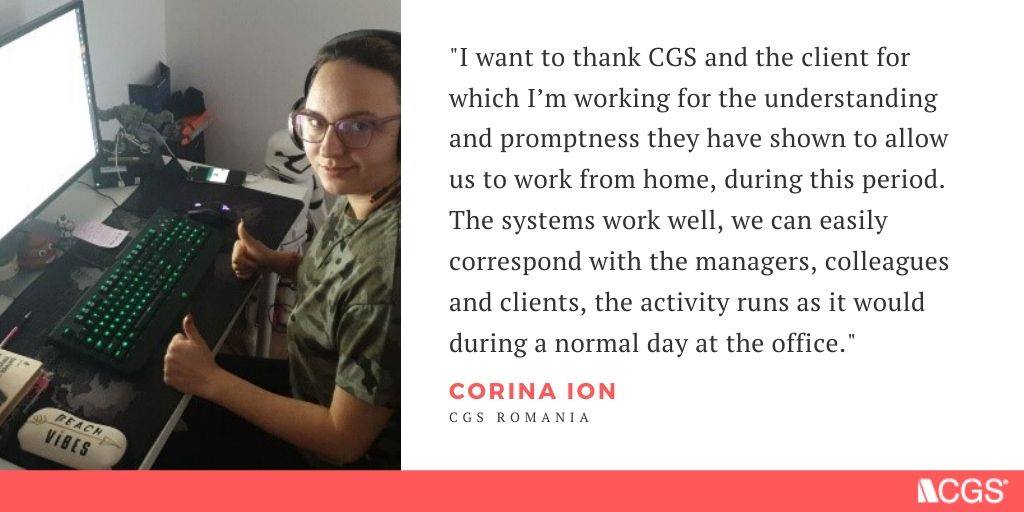 Moving over 7,000 employees to remote work over the course of three weeks took a well thought out and methodical process. We started with the extensive process of identifying which colleagues had an Internet connection at home. We analyzed what type of connection they had and at what access point distance the PC would be installed. For those employees who don't typically work on a laptop, we provided company computers for them to take home. We ensured they had all the peripherals they would need including cabling. Cables are important in a call center environment to have a stable cable connection directly to the access point. This makes system access and speed consistent and ensures good sound quality for calls.
For those few team members that need to continue working from our offices we are following the steps outlined above. We continue to add measures to protect the health and wellbeing of all of our teams and work with clients to find optimal and safe business solutions.
MAINTAINING BUSINESS CONTINUITY & GOOD DATA SECURITY PRACTICES
Our Managers and Team Leaders have use online tools to monitor their teams, collaborate and hold meetings. Our recruiting, onboarding and training programs have moved to a remote model, allowing us to bring on new employees remotely and ensure they have the skills they need to be successful while socially distancing from home.
Data security is also of paramount importance. All employees are working exclusively on CGS computers. This allows our global IT teams to ensure all systems follow the latest protections and actively monitor and respond to any threats to our systems.  All computers were also enabled to connect to the CGS network securely before they were sent home. Essentially, the employees still work on the CGS network, as if they were at the office.
We will continue to share our progress, tips and tricks and lessons learned throughout this world event. For more information and the latest updates, please visit our Covid-19 page.