How to Overcome the Top 4 Challenges to Enterprise XR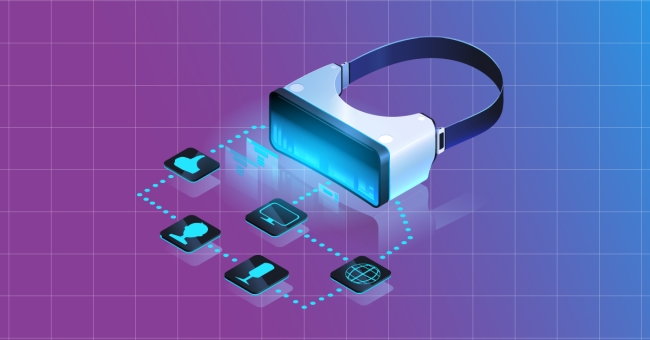 Extended reality (XR) technologies, augmented reality (AR), and virtual reality (VR) have enormous potential for driving enterprise business outcomes. This immersive tech is ideal for corporate learning and development (L&D), providing remote assistance, and reducing travel time by facilitating virtual meetings.
Many companies want to make a smart investment into XR, but they don't know where to start. It's an added layer of complexity to a business landscape that's already pushing for digital transformation on several fronts.
From picking XR hardware to the high upfront costs associated with them, decision-makers may struggle to get the ball rolling. Then add facilitating the necessary integrations and the ongoing monitoring, maintenance, and metrics that go into a successful XR initiative, and many are left wondering:
"Where do I even begin?"
That's why CGS Immersive now offers Immersive Learning as a Service (ILaaS), a subscription service for enterprise XR. Just as Software as a Service (SaaS) reduces the burden on in-house IT departments, ILaaS provides a simple and low-risk way to begin building out a business case and to seeing, measuring and scaling results from an XR initiative. 
These are the top 4 challenges to enterprise XR that ILaaS will help you to overcome:
1. Lack of Expertise and Resources
Like we said before, even knowing how to start is half of the battle. There's uncertainty in everything from the technical know-how to proving a return on investment (ROI).
For many organizations, the hurdle with this knowledge gap is high and as a new initiative, it's often not clear how much effort to put into researching solutions and training staff, even though they recognize the potential value that XR will bring to the table.
The ILaaS solution can help enterprises to overcome this challenge. That's because we're a learning company at our core.
We have a track record of working with some of the world's largest brands to design and build custom learning content. Learning is our pedagogy and technology is our passion.
Current ILaaS subscribers include the American Red Cross, McDonalds, and Scoot Airlines. They continue to request our services because they can benefit from the value of XR without having to face any of the pain of ramping up and updating their programs.
In the case of the Red Cross, the results speak for themselves. ILaaS adoption has resulted in a 75% reduction in volunteer ramp-up time, a 70% increase in training enrollment, and $6.5M in savings over a three-year period.
2. Limited Integrations
Even when companies do start experimenting with XR on their own, they only scratch the surface of their full potential. That's because many take a long time to tap into the entire technology ecosystem that XR is part of.
When businesses integrate advanced technologies together, they realize a force multiplier.
For instance, we've incorporated AR, object recognition, computer vision (CV), internet of things (IoT), and generative AI into our ILaaS offering. This expands the overall value proposition of the technology.
One great example is how quick service restaurants use ILaaS to fix complicated equipment. When an Automated Beverage System (ABS) goes down, for instance, the restaurant may lose thousands of dollars an hour in revenue while they wait a full day for a technician to arrive.
ILaaS empowers front-line staff who have never fixed a piece of equipment before to do the same troubleshooting a technician would and clear errors, or even complete basic repairs immediately.
When the machine goes down, it displays a code. The front-line staff points a tablet at the machine, and object recognition can tell what type of ABS machine it is. CV then takes a look at the code, which is sent to a database for diagnosis. Generative AI and AR graphics then provide step-by-step instructions on how to fix it.
CV then takes this one step further by making sure that the worker follows the steps in the correct order. If they do make a mistake, the computer can then adapt and offer updated instructions.
When we asked 109 workers who were unskilled in this area to fix an ABS, 78 of them were able to complete the skilled repair on the first try.
And that's just beginning to tap into the possible XR integrations. "Ensuring interoperability and integration with existing systems and devices can be a challenge, but having a flexible portfolio with professional service support is a boon for any company at any stage of XR maturity," explains Eric Abbruzzese, Research Director with ABI Research.
3. Logistical and Fulfillment
Hardware and software. 3D content. Reporting infrastructure and device management. The logistical challenge of starting an XR initiative can pile up quickly.
These are just some of the questions that plague this process:
What tech should we invest in?
What is the right hardware and software combination?  
How do we manage procurement?
What are the logistics of deployment?
How do we sanitize, distribute and track equipment?
What are we going to do with all these headsets?
How do we share headsets among multiple employees?
How do we manage maintenance and repairs?
 How about end of life (EOL) management?
The best solution is to not have to worry about this complexity. Choosing ILaaS means that the experts at CGS Immersive will answer these questions and assist to ensure a smooth implementation.
4. Lack of Scalability
Internal XR implementation can struggle with scalability, particularly as organizations grow and require more complex solutions. There's nothing worse than having to invest in a completely different technology setup because it's necessary to scale a successful XR pilot program into a full-scale deployment.
ILaaS removes this burden by making it easy to scale up or down as necessary. If a retailer needs to rapidly train an influx of employees during the holiday shopping season, for example, ILaaS gives them that option without having to hold onto all of those extra headsets after the rush is over.
Just like with cloud computing, companies only pay for what they need. It's easy and fast to get more resources when you need them and to scale back when you don't.
Conclusion
By overcoming the top challenges of enterprise XR adoption, ILaaS makes it easy to begin experimenting with XR for enterprise-ready use cases. It removes barriers like lack of expertise and resources, limited integrations, logistical and fulfillment issues, and lack of scalability.
Just as CGS's TeamworkAR was a solution ahead of its time, CGS Immersive and ILaaS is a paradigm shift in how enterprises approach corporate L&D with immersive learning. It's great for organizations who are already on their XR journey and have identified learning as a a critical area of focus.
But we also recognize that there are many organizations who may not have embarked on their own XR journey yet. That's where our XR Launchpad solution comes in. Specifically designed to take organizations from curiosity to action, it includes workshops, training/education sessions, hands-on experiences, and one-on-one consultations to help stakeholders understand the potential of XR and how it can be applied to their business.
Excited to get started with XR? Contact us to learn more.