Top COVID Challenges for Contact Centers in 2021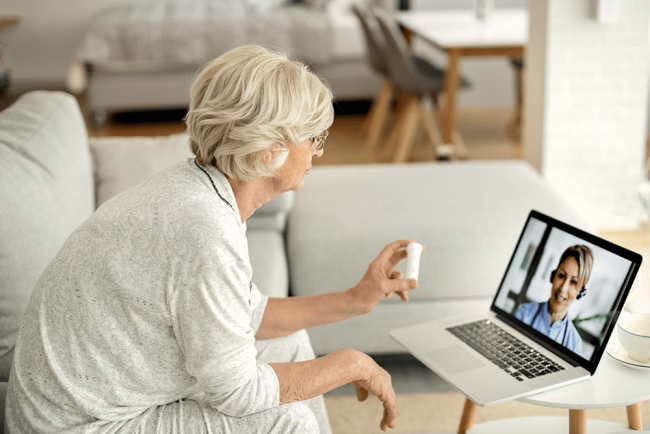 To help businesses across all industries succeed in the COVID-19 era, CGS surveyed more than 200 top company leaders and decision makers about how COVID-19 is impacting their call center operations. The data sheds light onto the top COVID-related challenges support teams can expect in 2021, as well as outsourcing decisions and technology investments the companies should consider.
With 74% of customer experience (CX) leaders reporting increases in call center volumes in 2020, it's critical that support leaders understand what they're up against to anticipate and adjust their strategies for 2021 and beyond.
 
Call Center Disruptions from COVID-19
There's no doubt that COVID-19 has disrupted call centers and customer service operations on multiple levels. Survey respondents stated that the following were the areas they felt the most challenged in 2020:
| Have you experienced any of these challenges from Covid-19 disruption? |   |
| --- | --- |
| Shift in overall business strategy | 47.6% |
| IT/technology problems inhibiting ability to Work from Home | 42.9% |
| Data privacy/security concerns with agents in Work from Home model | 41.0% |
| Difficulty supporting business growth because of staffing challenges | 36.2% |
| Difficulty supporting business growth due to technology limits | 25.7% |
Recent data from Freshworks confirms that customers have indeed become more demanding throughout the pandemic. Some 68 percent of service leaders say that customer expectations have increased since February of last year. This is one of the major driving factors in why respondents to our survey say that a shift in business strategy has been their main disruption due to COVID.
For example, many retail companies shifted the bulk of the business away from bricks-and-mortar to online eCommerce sales. Massive strategic shifts like this necessitated by the pandemic also entail the rethinking of contact center operations. This goes hand-in-hand with difficulties in scaling support growth due to staffing and technology limitations.
But one of the most significant challenges that contact centers will continue to grapple with is the work-from-home trend.
 
Departments Grappling with Work-from-Home
Around 70 percent of companies say they expect call center agents to continue work-from-home well through 2021. Our survey data also supports the notion that work-from-home is a permanent trend for call centers. Business leaders indicate that the percentage of call center work-form-home seats will be astronomically higher in 2021 than heading into last year.
| Work From Home Seats | Heading into 2021 | Heading into 2020 |
| --- | --- | --- |
| 0-9% | 2.8% | 25.6% |
| 10-24% | 6.7% | 25% |
| 25-49% | 15.2% | 22.5% |
| 50-74% | 26.7% | 18.1% |
| 75-100% | 48.6% | 8.8% |
The dramatic shift towards work-from-home goes hand-in-hand with the fact that organizations of all sizes—across roles and departments—struggled with adjusting support strategies to achieve growth. One of the most common challenges cited in our survey data, for instance, are customer security and privacy concerns in the work-from-home support center. Around 48 percent of IT departments cited security as an obstacle to growth.
Staffing and technology were also cited as significant barriers to growth. Our data shows that 44 percent of operations leaders and 42 percent of customer service leaders had difficulty supporting business growth because of staffing challenges. Recruiting, hiring and training agents is now taking place in a totally virtual environment. The good news is our data shows that business leaders across the board—from finance to operations—are actively aware of staffing impediments to growth.
There's no doubt that work-from-home presented a curveball to contact centers in 2020. Businesses had to divert significant resources towards making the transition to work-from-home, with objectives like strengthening security and achieving growth taking a bit of a back seat. But as companies go into 2021 more accustomed to work-from-home, they should be more prepared to tackle existing and upcoming challenges more readily.
 
Top Challenges Heading into 2021
Turning toward this year, contact center leaders have varying levels of confidence in their ability to maintain high service levels through 2021. Only 21 percent of service leaders are completely confident in their ability to respond to future waves of COVID-19, with the majority falling in the somewhat to fairly confident range. Thankfully, our data indicates a lack of extreme pessimism, with no respondents saying that they aren't confident at all.
Making our way through 2021, contact center leaders cited that keeping up with the changing nature of business as the number one COVID-related challenge. This can range from rising customer expectations to adoption of new technologies like augmented reality (AR) in support. Challenge number two is the availability of labor, which many contact centers are tackling with business process outsourcing (BPO). Finally, customer data security and privacy will loom large for 2021 and contact centers will need to implement the right technologies and security measures to both serve customers and keep hackers out.
| Are you confident in your ability to respond quickly to additional waves of COVID-19 without degradation of service quality? |   |
| --- | --- |
| Completely confident | 21.0% |
| Fairly confident | 34.3% |
| Slightly confident | 10.5% |
| Somewhat confident | 34.3% |
| Not confident at all | 0% |
| TOP 3 challenges impacting your call centers that will be most top of mind in 2021 |   |
| --- | --- |
| Keeping up with changing nature of business due to Covid-19 | 58.1% |
| Availability of labor | 40.0% |
| Customer data security/fraud prevention | 36.2% |
Conclusion
Our contact center survey results show that service leaders are well aware of the challenges presented by the COVID business environment and are already taking measures to adjust. Contact centers will need to adjust to seismic shifts in their businesses by taking measures like reaching customers by implementing new communications technologies, such as AI, Chatbots and/or Augmented Reality solutions, shoring up WFH environments for the long haul, and considering options like working with a BPO provider to have more flexibility during these uncertain times. They'll also need to maintain high levels of service in the work-from-home environment to meet increasing customer expectations. While 74 percent of customer service leaders in the U.S. feel that customers have become more empathetic since the crisis, patience for substandard service won't last long before customers will abandon ship for a more worthy competitor. Thankfully, call center leaders are generally confident that they can meet these challenges and raise the bar for service and support through 2021 and beyond.