6 Business Use Cases for Augmented Reality that Drive ROI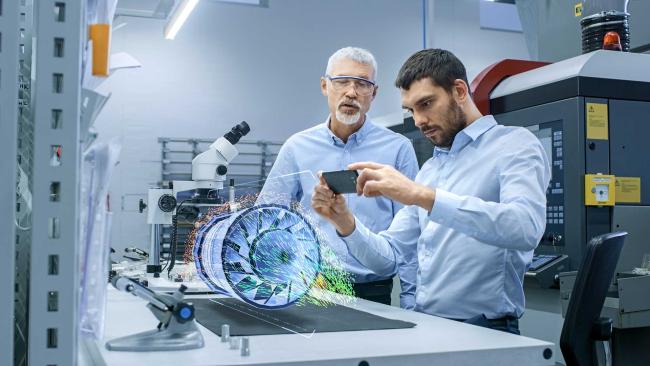 Augmented Reality (AR) has proved a key technology for solving some of the toughest business challenges of the COVID-19 era, but that doesn't mean its impact will lessen anytime soon. As we move slowly toward a "new normal," both customer expectations and business requirements will inherit certain processes, procedures and technology from the pandemic.
With broader adoption, AR will continue to create opportunities for growth, cost savings and improved performance for companies. The time to transition a business from resilient to flourishing is now, and AR can help.
In a recent survey of technology leaders, we found that 91 percent of executives believe AR has improved their service operations during the pandemic. Their main challenge, however, has been identifying business use cases that drive ROI.
In a recent webinar, John Ragsdale, distinguished VP of Technology Research at Technology Services Industry Association (TSIA), joined Doug Stephen, president of Enterprise Learning division at CGS, and Steve Petruk, president of Global Outsourcing division at CGS, to discuss the proven use cases they've seen businesses implement as they adapt to a changing landscape.
#1: Boost Call Deflection Rates
Simply put, a call deflection rate is a technique of rerouting a customer's call to an alternate channel of customer care, including digital. Augmented Reality technology reduces this customer service key performance indicator (KPI) both by providing customers with tools to troubleshoot their own equipment and by making service calls more effective, thus reducing repeat callers.
Petruk explained, "The best-case scenario is that it's something the customer can fix with remote guidance." Through their mobile app and camera, "we see what the consumer sees and can help walk them through the repair, even if it includes dispatching a technician at some point." Petruk pointed out that during the pandemic, many of us haven't wanted strangers in our homes, but we still experience device and appliance breakdowns. With AR remote assistance, agents can troubleshoot and help customers replace parts, determine issues, do simple repairs and more.
The support becomes more effective and call deflection rates are boosted as support technicians are enabled to see what the customer sees and provide onscreen help via an AR overlay.
#2: Increase First-Time Resolution
Like call deflection rates, AR increases first-time resolution by improving the overall level and quality of service a support center can offer. Since this technology helps agents to properly diagnose a problem and follow the right steps to fix it, we see an uptick in first-time resolution among organizations that implement this technology.
#3: Reduce No-Fault-Found Incidents
One of the biggest inefficiencies in field service is no-fault-found incidents. Essentially, this means that an issue is misdiagnosed and/or parts found to be faulty, even though there's nothing actually wrong with it. AR reduces these incidents by enabling more accurate diagnoses.
"No-fault-found is usually because the customer isn't doing something correctly," said Doug Stephen. "So, how can we empower a customer to know what to do without even making that call? In a lot of cases, it involves marrying the technologies of AR and animation."
It's one thing to give instructions and another to physically show it on an object. Solutions like Teamwork AR enable everyday consumers people to make repairs that previously would have required a specialized technician.
#4: Decrease Second Home Appointments
Speaking of getting it right the first time, AR also lessens second home appointments by increasing first-time resolution. Whenever companies need to send out a truck to address an issue, they incur costs. Decreasing truck rolls directly translates to lower operational costs.
One way that AR enables this is by making field repair technicians more effective. For instance, if a repairman is unsure of the right port to which he needs to connect a cable, he can use AR to remotely bring in another expert for real-time guidance.
#5: Enhance Customers' Net Promoter Score
AR can directly enhance customers' Net Promoter Scores (NPS). When customers feel taken care of, when they feel that their concerns are addressed and their service providers are offering exceptional support, they're more likely to recommend that business to friends, relatives and colleagues.
As Petruk puts it, "AR and VR have had a big impact on the ability to reduce the time [to repair]. Agents can get immediate help, and they don't have to explain what the problem is. You've got recognition features built into the AR technology, so you can drastically reduce repair time no matter how long it is."
Ultimately, Petruk explained, by fixing problems faster and more effectively, companies can improve customer satisfaction and boost their NPS.
#6: Lessen Time-to-Proficiency of New Hires
Lastly, AR also reduces the amount of time it takes to bring new hires up to speed for their jobs. Augmented Reality tools, such as Teamwork AR®, offer proven results for workforce training because it provides a hands-on, risk-free environment for hires to become accustomed to working with complex machinery.
"We can reduce training time and make it more effective because they can access it anytime, day or night," said Petruk. "And they get more hands-on time than they would have if they were in a housed environment, where they maybe have 30- or 45-minutes total over a week to access it. This way they get [to the training] all the time. And they can revisit it at their leisure once they're out in the field."
Conclusion
At the end of the day, these AR use cases all drive ROI because they create more seamless information flows when and where it matters most. Augmented Reality is also effective at transferring knowledge because it enables real-time, visual collaboration across any distance.
Want to learn more about these 6 business uses and see case study videos that put them into action? Watch the full discussion now.
---
Resources:
https://www.sme.org/technologies/articles/2020/january/big-savings-quick-roi-materialize-with-the-use-of-ar/
https://learningsolutionsmag.com/articles/improve-your-roi-with-augmented-reality-what-you-need-to-know
https://thearea.org/ar-news/ar-and-vr-deliver-roi-via-efficiencies-and-cost-reductions/