How Group VR Can Drive Innovation Amid Disruptive Times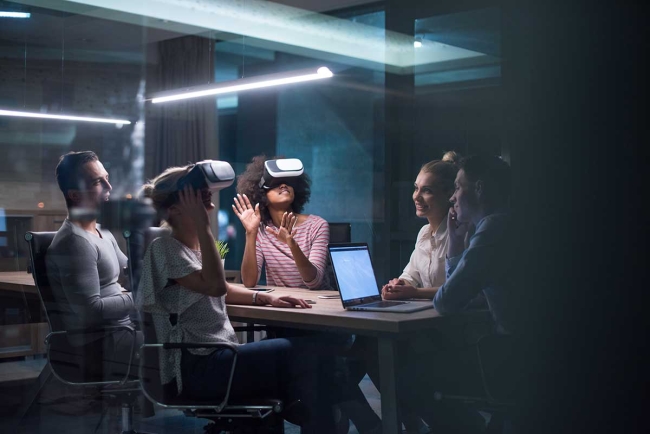 In addition to the health and human costs, COVID-19 may have caused more widespread business disruption than anything in our lifetimes. But it's far from the first disruption, and it'll be far from the last. Companies that were more resilient and better prepared for the pandemic and its fallout were those that already had invested, or those that quickly invested, in collaboration and communication tools. These tools enable your workforce to work together, efficiently and quickly, no matter where they are located.
Companies today are faced with a greater likelihood of operating with blended workforces (office and remote) scattered across geographies and time zones. It can be a challenge to keep up, let alone future-proof these organizations.
As with many organizational shifts, L&D is one area that must progress. In fact, it could be best if Learning staff were early adopters who helped to lead the rest of staff through changes efficiently and effectively.
Alongside this scenario, a year into the pandemic, we realize that Zoom fatigue is a very real thing. Some 300 million people take part in a Zoom meeting daily. Videoconferencing has been around for some time, but never this widely used and depended-on. And while technology has undeniably helped the lockdowns from being even more lonesome and disruptive, video calls flatten our social interactions—personal and professional—into a grid of faces on a screen.
According to Stanford's first peer-reviewed article on Zoom fatigue, four chief factors lead to this fatigue:
Constant, close eye contact with few to many people
Constantly looking at your own face (which can lead to self-esteem issues for some)
Sitting still for an extended period
Inability to easily and accurately pick up on social cues like body language
In attempting to stay connected, even with family and friends, we may be doing unnecessary harm by subjecting ourselves to an endless cycle of meetings. We are finding that conferences, even those with video and whiteboards, are simply not as effective long-term.
The question is, how do we stay engaged, satisfied, connected with one another and productive at work while using technology? Is there a better option for learning? To combat Zoom fatigue and other new challenges in a changing world, a host of technologies can be crucial.
New Challenges, New Tech
These technologies and innovations that are shaping the future of work was the topic of a recent webinar with our colleagues at Human Capital Institute. Rob Lauber, former Chief Learning Officer at Fortune 500 companies like McDonald's, YUM! Brands and AT&T and now CEO/Founder at XLO Global, LLC, and Doug Stephen, President Enterprise Learning division at CGS, led the discussion.
In approaching new technologies that can help modernize and future-proof L&D programs, the presenters offered six baseline questions companies can ask to evaluate each one:
How does it work?
How is it used in learning?
Is it effective?
Is it difficult to implement?
Is it expensive?
What are the use cases?
Group Virtual Reality
While virtual reality (VR) has been around since the early 1990s, group VR has taken off in the past decade or so. Picture a team of people across the country that puts on headgear, and they can join one another in a common theater where you can sit and interact. Your avatar, usually a head and hands for interaction, watches the instructor perform an operation, and then you can go into your own virtual room and try it yourself. The instructor can monitor rooms and offer support.
Stephen offered a use case with blood collectors—people from all over the country learning how to collect blood. In COVID times, the training became almost fully online:
Group VR is a truly collaborative environment to work alongside colleagues. Instead of simply watching to learn, you can do it together. In this case, using haptic sensors, as users swab the area for the needle, they can physically feel the detail of the veins and identify the best point to insert.
VR is known to be effective for teaching hard skills and for simulations, such as a flight simulator to train pilots. However, companies are increasingly turning to Group VR to train employees on soft skills, such as leadership, resilience and change management.
Perhaps you already see the appeal and the use cases emerging. Depending on your VR tech, staff can wear a headset and use a tablet to open and manipulate files, draw in space or on virtual whiteboards and attach sticky notes in 3D. You can work with models of machinery in a safe environment before approaching the real thing. You can brainstorm, break into separate workgroups and come back together to share solutions. Backdrops and meeting places can be futuristic outer-space conferences among the stars or inspiring vistas like meeting on the beach of a Pacific isle. Spacesuit or flip-flops optional.>
A Bevy of Benefits
Studies show that learning with immersive and interactive technology offers many benefits to individuals and organizations. Collaboration tools are more than just a way to bridge physical distances between employees. It can also better connect and improve your learning programs. According to a PwC study, VR learners were:
Up to 4x faster to train than those in classroom
40% more confident to act on what they learned after training in VR than classroom learners and 35% over e-learners
3.75x more emotionally connected to content than classroom learners
4x more focused than e-learners
These improvements to learning and development can also lead to desirable business outcomes:
Effective muscle memory to do routine tasks
Increased productivity
Improved behaviors and more empathy
Better employee retention and satisfaction
More successful projects and deliveries
Setup and Use
As with any technological undertaking, choosing the right team or technology partner is key. Look for expertise on the human as well as the technical side of deploying an immersive technology like VR. Enabling the technology is one aspect, but engagement is quite another. Both are important in changing employee behaviors.
Its setup can be a little daunting, but with a dispersed workforce, it can have a big payoff. Virtual Reality is a larger amount of work than Mixed Reality or Augmented Reality. It involves creating entire virtual meeting spaces, as well as virtual inhabitants and objects, etc. That said, some companies offer more "off the shelf" VR products that require less setup but offer less customization.
Spend vs. Savings
VR can be expensive as it involves purchasing equipment. Generally, tablets/smartphones and headsets are needed for each user. Total costs of course depend on the size of the company and the rollout.
For companies with a lot of traveling staff, there's another way to look at cost. The cost of each device is "basically one plane trip," said Lauber. Between productivity increases and reduction in travel expense, VR becomes a lot more feasible.
Group VR has come far in the past 10 years. While its use in L&D is still early days, it has a solid, practical application in hybrid work environments. And if you have a good use case, you've got a good business case, as well. It can be daunting to set up and use, but it can also turbocharge your employees' learning, retention, productivity and engagement. This is certainly one technology to consider in addressing the issues of a modern workforce and a world in flux.
Watch the full webinar now to see the entire discussion, as well as some great Q&A at the end around:
How to get started with experiential/AR technology?
What is your advice on best practices for scaling learning tech and programs globally?
If you're new to L&D, what resources are there to explore emerging themes?