L&D and Augmented Reality – Why Not Take the Lead?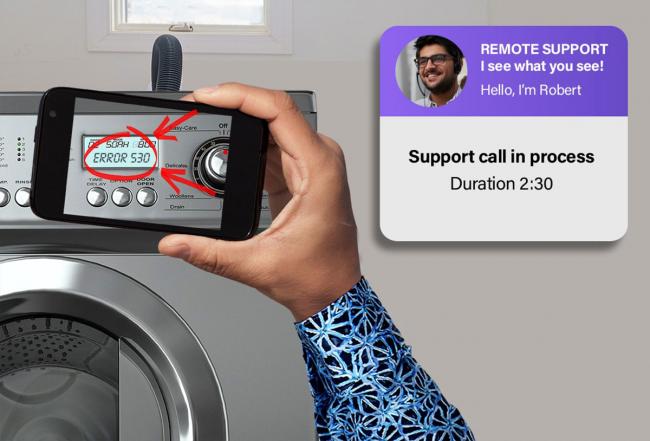 Charged with training and developing staff, learning and development (L&D) professionals are leading the way to business success. They are equipping staff with the technical and soft skills needed to work effectively and efficiently. Technology has helped usher in more engaging learning with formats like video and gamification.
A more recent technology, augmented reality (AR), has begun to proliferate. AR applications vary from customer service and support to sales and demonstration to staff and customer engagement. AR is a term for technologies that allow you to place a virtual overlay onto your physical surroundings. You can open an app on your smartphone or tablet, point your camera at your washing machine and see a visual overlay that shows you how to set the program mode on it. You can even get help from a support person as they view what you're seeing from their own device. Or perhaps you point the camera at yourself to see how a blouse or shoe on a retail site might fit you. All available whenever you want and wherever you are.
You might be thinking, AR sounds ideal for training and development. And you're right! However, in a 2021 trends survey of 176 L&D leaders, only 13 percent of those enterprise learning leaders have implemented AR or Virtual Reality (VR) solutions, and 29 percent plan to do so this year. Meanwhile, a Consumer Technology Survey of 577 organizations found that 77 percent of technology leaders are engaged in AR/VR for training on business and IT applications. Why the disconnect? There's the classic discussion about silos that we dive into in an article here.
But to understand why L&D may be trailing other areas in implementation of AR specifically, let's look at the pros and cons of AR in this context.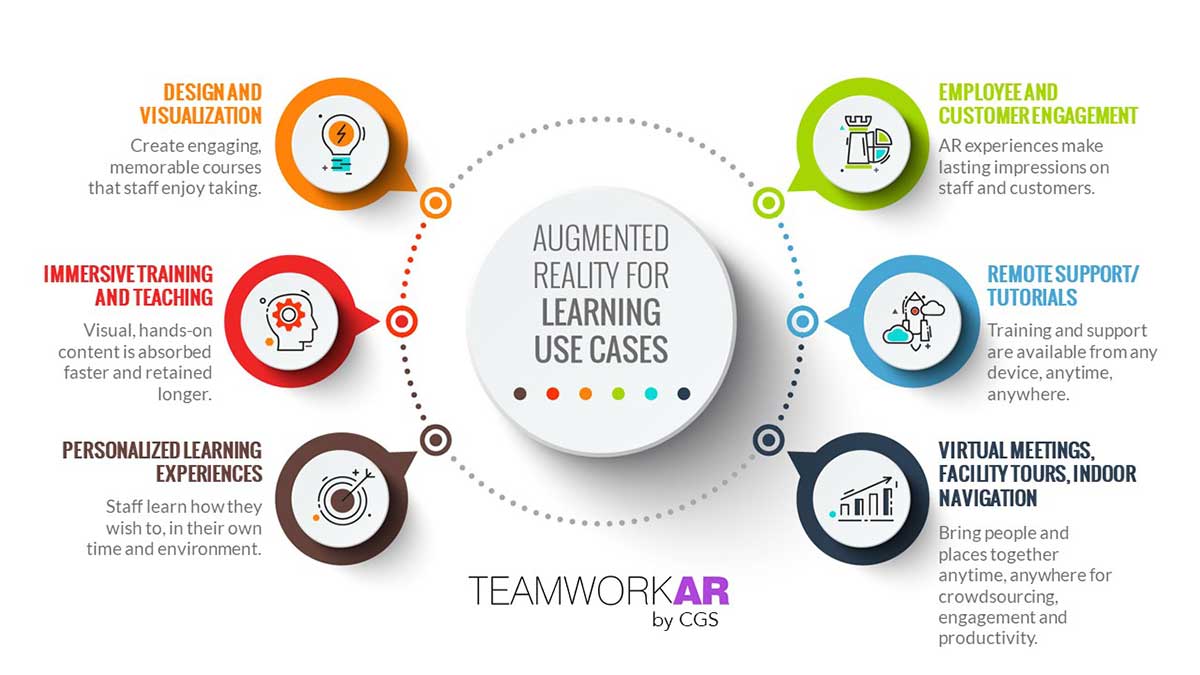 Why Adopt AR/VR?
As you see from the various use cases, AR could prove an integral part of your learning program. Adopting AR for enterprise learning offers numerous additional benefits to organizations and employees. Consider the following:
1. AR for Improved Onboarding and Retention
Onboarding new staff remotely has challenged organizations and individuals in this new normal. AR focuses on hands-on activities that can still produce muscle memory. This rich visualization can help connect companies and people in a more immersive, meaningful way. It can also boost learning potential and drive home concepts. Research shows that visual training, such as training using AR, offers great guidance for deskless workers who need to onboard remotely by building coaching, collaboration and step-by-step instructions into the training.
It also leads to greater employee engagement – and in turn, retention – through elevated performance, connection to a company's mission/objectives and advancement opportunities. A 2019 survey by The Muse found that 58 percent of young workers are willing to switch jobs for training and learning opportunities or an improved work/life balance, ahead of compensation. Also consider that the cost of replacing an individual employee can range from one-half to two times the employee's annual salary – and that's a conservative estimate. Voluntary turnover costs U.S. businesses about $1 trillion per year. Perhaps an upfront investment to improve training and development seems more reasonable.
2. Adaptive Technology in a New 'Workplace'
While staff virtualization was already under way, the meaning of workplace is changing faster than ever due to the pandemic. Companies are realizing that more types of work can be done remotely. This trend will continue as we navigate a post-pandemic world. Now, the talent pool is global rather than in hyper local regions. Before the pandemic, employers saved an average of $11,000 per half-time remote employee. Extrapolate that to a full year and every remote worker is reducing company costs by $22,000. AR offers flexible training options and immersive, connective experiences that will be useful for a future workforce that remains partially or fully remote.
3. Provable Return on Investment (ROI)
It can be challenging to measure the ROI for a training program. Fortunately, we have covered best practices on measuring delivery and adoption of experiential training – from a handful to thousands of employees. In the era of augmented reality, ROI ties into business metrics in very tangible ways. ROI in AR can lead to huge cost savings on travel, instructor led training, equipment training and maintenance, speed up onboarding time and directly support your C-suites business resiliency strategies. Many AR experiences, such as step-by-step walkthroughs and games, also lend themselves to built-in tracking, analysis and compliance. These offer great ways to measure progress.
4. Real-time Data with Actionable Analytics
Many augmented reality tools provide real-time data on how and when the training is used. This gives learning professionals insight into how workers are engaging with the experiences. How long did they take to complete a real-world task? How often did they need to repeat the steps in the exercises? Two out of eight members of one team completed a task. What happened with the others? This data can be invaluable in measuring work-from-home productivity, and concerns can be fed back into the learning plan for adjustments.
5. Develop a Future Workforce
By appropriately collecting and analyzing your data, augmented reality can help productivity and development with a remote workforce. Through AR your staff may find new ways to conduct traditional procedures. This can breathe new life into problems they're solving and transform workload, and ultimately deliver better outcomes. In a workforce that requires adaptation, AR is the right tool at the right time.
With upsides like these, it's easy to see why successful brands are already using AR:
~75 percent of Forbes World's Most Valuable Brands already have created some type of AR/VR experience

AR/VR spending in 2019 was $16.8 billion—by 2023, they are predicted to be a $160 billion industry, according to Statista Forecast worldwide market size (2016–2023)
To AR or Not to AR?
That is the question. As a sign of what's to come, our survey results shown in the Enterprise Learning 2021 Annual Report also indicate that larger businesses are nearly twice as likely as smaller ones to say they'll increase use of all emerging tech types, including AR, for their learning formats. So, as the technologies mature and become more widely understood (and perhaps more affordable), smaller businesses can implement them, too. The full report, including insights and trends on L&D for enterprises, is now available. Get your free copy.
The pandemic has been the impetus for enterprises to use immersive technology to enhance their learning experiences. It becomes clear that by blending the physical and digital worlds with AR, L&D teams could lead the way toward smarter, safer and more effective workforce training. The question then becomes, what can AR do for you?
---
https://arpost.co/2020/05/10/ld-augmented-reality-work-from-home/
https://trainingindustry.com/articles/learning-technologies/pros-and-cons-of-using-extended-reality-in-employee-training/
https://www.gallup.com/workplace/231668/dismal-employee-engagement-sign-global-mismanagement.aspx